Dental Implant-Retained Bridges – Lancaster, TX
Enjoy a Complete Smile with Dental Implants
Losing even a single tooth can impact your self-esteem but several missing teeth can be devastating. Simple tasks like chewing and speaking clearly can be more challenging. Not to mention, it's easy to feel embarrassed by your appearance. You don't need to live with the empty spaces. Now, you have more options than ever to rebuild your smile. Besides traditional solutions, you can also enjoy the latest innovations, like an implant-retained bridge in Lancaster. No matter how many teeth you're missing, we have the solution for you.
Why Choose Lancaster Family Smiles for Implant-Retained Bridges?
Expertly Designed Restorations
No Referrals: Implants Placed In-House
Caring Team Focused on High Quality Customer Service
Two Consecutive Missing Teeth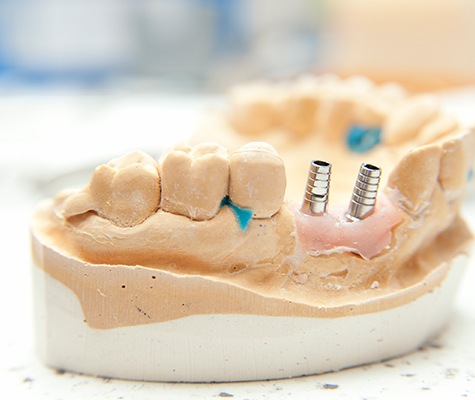 Two consecutive missing teeth are typically replaced with a fixed bridge. Your dentist takes an impression of your mouth to recreate the teeth you've lost. Dental crowns are bonded to your adjacent teeth to hold the bridge in place. Although this method is effective, you will need to permanently alter healthy teeth.
As an alternative to a fixed bridge, you can stabilize your new teeth with dental implants. This replaces the entire tooth structure while keeping your healthy teeth unchanged.
Three or More Consecutive Missing Teeth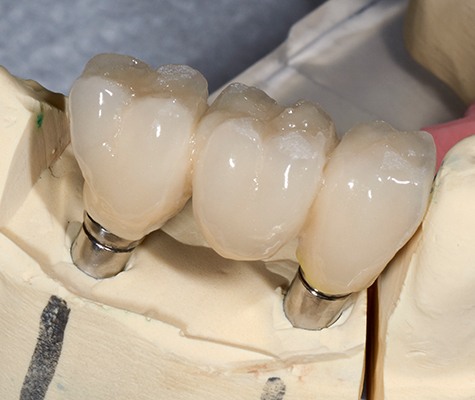 If you've lost several teeth in a row, a fixed bridge can be used to rebuild your smile. You can also replace them with an implant-retained bridge. A dental implant is placed at either end to support it. This allows you to preserve your remaining teeth while also enjoying a treatment that can last for a lifetime.
Multiple Missing Teeth Throughout an Arch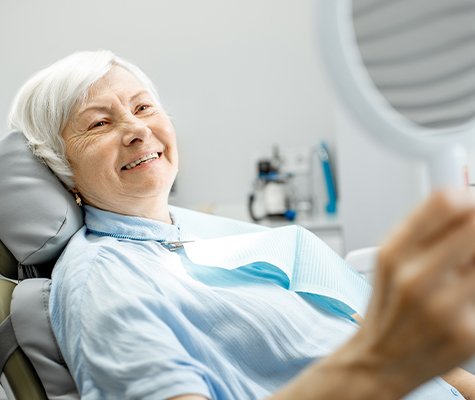 Typically, a partial denture is used to replace multiple missing teeth. Prosthetics are held in a gum colored base that has a metal framework. This allows it to clip or clasp onto your remaining teeth to hold it in place. Although it's effective, it will always have its limitations. You can regain the next best thing to your natural teeth using a combination of implant-retained bridges and/or single unit implants. We will create a customized treatment plan based on your specific needs.
Benefits of Implant-Retained Prosthetics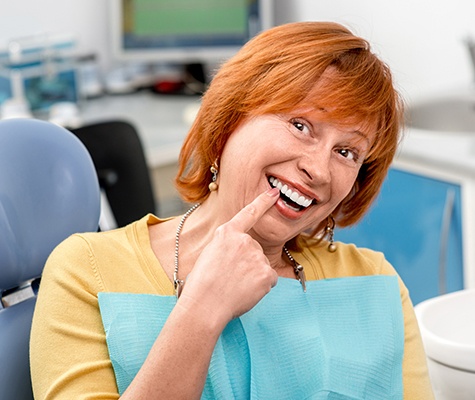 A dental implant in Lancaster allows you to replace the entire structure of a tooth, not just the crown. As a result, you'll advantage from several benefits that aren't possible using a traditional treatment, such as:
High Success Rate: Over a 95% success rate and proven to last for many decades with the right aftercare.
Looks Natural: Restorations are customized to match your natural teeth from all-ceramic material to blend in seamlessly when you smile.
Feels Natural: Regain as much as 70% of your natural biting force.
Improves Your Oral Health: Preserves your jawbone's density to stop dental drift.
Doesn't Alter Healthy Teeth: Dental implants don't rely on healthy teeth for support.
Cost-Effective: Long-term solution that shouldn't need to be replaced with the right aftercare.
Schedule an Appointment Today!
Now, you can enjoy the next best thing to your real teeth with the help of dental implants. We can stabilize your restorations to invest in your quality of life. Contact our office today to schedule your consultation for a complete smile.