Single Tooth Dental Implants – Lancaster, TX
Giving Patients Fully Restored Smiles
At Lancaster Family Smiles, we know just how devastating losing a tooth can be. Before you had a beautiful, complete smile, and now, there's a gaping hole staring back at you. No matter how it happened, you just want it replaced. Dental implants in Lancaster are an ideal solution for patients with missing teeth. Not only can they visibly replace your missing tooth, but they can also provide the full structure you need to keep your mouth in good shape. What do we mean? Dental implants replace your tooth from the root up! By providing stimulation to your jawbone, you can prevent facial collapse, teeth from shifting, and bone deterioration. How great is that? Get your smile back by contacting our office today to schedule a consultation.
Why Choose Lancaster Family Smiles for Single Tooth Dental Implants?
Implants Placed In-House
Long-Lasting, Lifelike Material for Crowns
Advanced Cone Beam CT Scans Allow Precise Surgery
Tooth Replacement Options
You have two options when it comes to replacing a missing tooth: a fixed bridge or a single tooth implant. Both will offer the visual appeal you're looking for, but only one will provide a complete replacement that includes the root.
A traditional fixed bridge uses healthy teeth on either side of the gap to serve as anchors. These teeth are altered to ensure the entire prosthetic fits correctly and essentially, "fills the gap."
A single tooth implant has no need to alter nearby teeth because it's only replacing the vacated socket. The implant, which is made of titanium, serves as the tooth's root, and supports a custom-made dental crown.
What are Single Tooth Implants?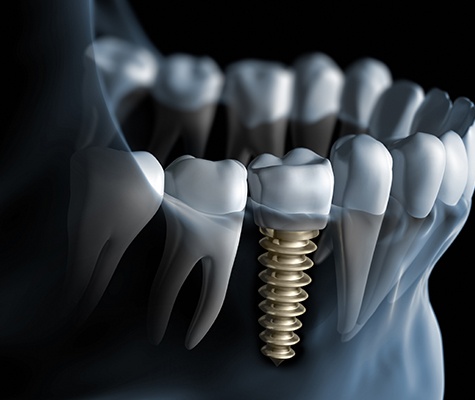 If you want a solution that truly replaces the tooth in its entirety, there's no better option than single-tooth implants. Your dentist in Lancaster will need to make sure you are eligible for dental implants by first ensuring you have enough bone support. Once you're cleared for the placement process, Dr. Gupta will administer anesthesia before making a small incision in your gum line. He will then drill a hole into your jawbone and carefully place and position the implant.
Once he stitches up the area, you'll be sent home to spend the next 3 to 6 months healing and allowing osseointegration to occur. This is a required process that must occur for the implant not to fail. During osseointegration, the implant must properly fuse to the bone, so the implant will serve as a stable foundation for the restoration.
When you return, he will secure an abutment, which connects the implant to the restoration, before placing your custom-made dental crown, which will be matched to your natural tooth color, size, and shape.
Benefits of Single Tooth Implants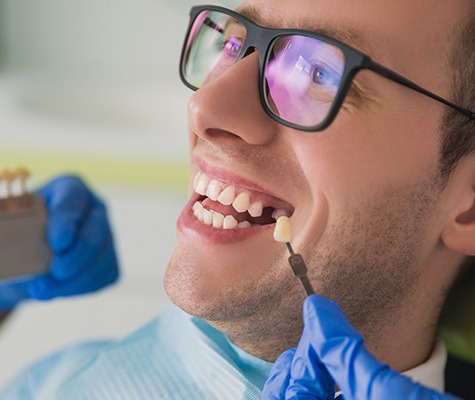 Natural look and feel – It will feel and function just like a normal tooth, giving you added confidence to eat, chew, and speak without worry.
Easy to clean – Brushing, flossing, rinsing, and regular visits to see Dr. Gupta are all you need to keep your dental implant clean.
Long-lasting – A dental implant can last decades. With proper care, you can even maintain your implants for a lifetime.
No harm to nearby teeth – Unlike a traditional fixed bridge, no nearby teeth need to be altered.