All-on-4/All-on-6 Dental Implants – Lancaster, TX
Fully Repair Your Smile with a Few Implants
How many dental implants do you think it will take to replace all the teeth in your upper or lower jaw? The answer could be as low as six or even four implant posts. Patients who have lost all or most of their teeth should consider the All-on-4 and All-on-6 procedures; that way, your dentures will benefit from being able to rest on strong, stable, highly durable tooth roots. Call Dr. Gupta today to schedule a consultation to discuss smile restoration with All-on-4 or All-on-6 dental implants in Lancaster, TX.
Why Choose Lancaster Family Smiles for All-on-4/All-on-6 Dental Implants?
Cone Beam CT Scans for Precise Placement
Beautiful, High Quality Dentures
Open Seven Days a Week
What is All-on-4 and All-on-6?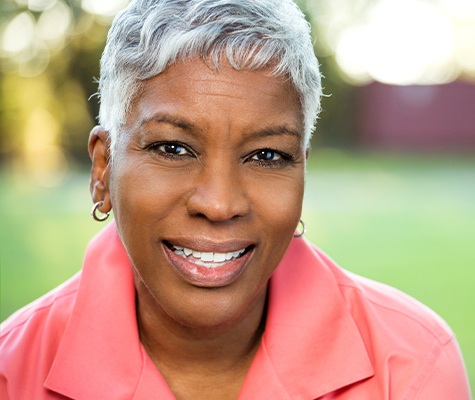 All-on-4 and All-on-6 are both procedures used for full arch replacement. In other words, they're used when you've lost an entire row on teeth. As you can probably guess, the names are based on how many implant posts are used – 4 and 6, respectively. An advantage of these procedures is that they tend to simplify the dental implant process; fewer implant posts means less healing time is required, and as a result you'll receive your permanent dentures much earlier than you normally would.
How Does a Full-Arch Dental Implant-Supported Bridge Work?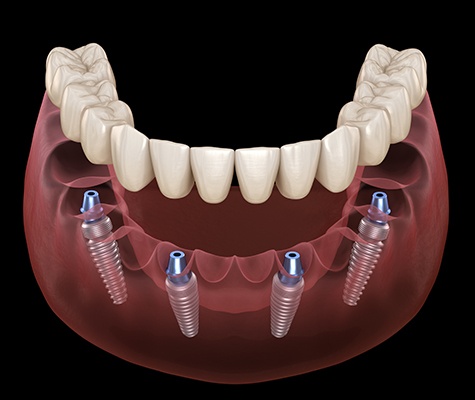 During the surgery, your mouth will be numbed; you may also be sedated if you're feeling anxious. The implants are inserted directly into the jawbone at strategic locations. Over time, the implants bond with the jaw through a process called osseointegration. This is what allows them to mimic the stimulation that natural teeth normally provide. The dentures themselves will be fastened to the implants. In certain cases, the dentures might be removable, but many patients prefer for them to be permanently fixed in place.
Teeth-in-a-Day at Lancaster Family Smiles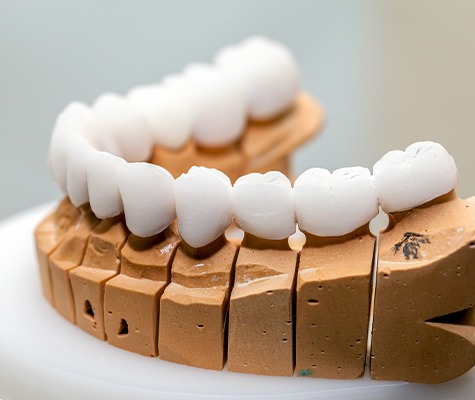 Permanent dentures cannot be placed on implants until your mouth has completely healed from the initial surgery, but with the All-on-4 and All-on-6 procedures, you won't necessarily have to go without teeth during this time. Oftentimes, we can offer Teeth-in-a-Day – a unique approach where temporary dentures are installed on the same day as the implant surgery. This is typically possible because of the strategic placement of the individual implant posts and the lighter material used to make the temporary restoration.
Learn More About Teeth-in-a-Day
Our Unique Dental Implants Expertise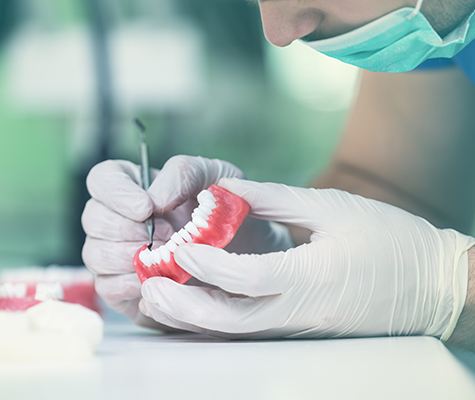 When it comes to the placement and restoration of dental implants, Dr. Gupta has the training and experience to handle the entire process without referring you to a different provider. You won't have to visit an oral surgeon that you barely know to receive your implants before returning to our dental office for your new teeth. We also have an in-house anesthesiologist and an in-house lab technician to help us provide the highest quality care possible.
Lancaster Family Smiles vs Other National Chains
Many patients in the Lancaster area may be considering a other national dental implant centers to have their dental implants placed. But before you make that call, you should know that Lancaster Family Smiles can offer many of the same benefits, including a dentist with extensive implant training, a dedicated team that includes several specialists, and multiple financing plans to match your budget.
| | |
| --- | --- |
| | Lancaster Family Smiles |
| One Cost | $20,000 |
| No Surprise Fees | |
| Financing and Payment Plans | |
| Expertise & Training | |
| In-House Sedation | |
| Personalized Touch & Attention | |
| We Guarantee Our Work | |
| All-in-One Center | |
| Dedicated, Same Team at Every Visit | |
| Temporary Bridge & Final Prosthesis Included | |