Dental Implants — Lancaster, TX
Simply The Best Way to Replace Missing Teeth
Losing a tooth used to be so much fun! Everyone was so excited, and you could look forward to a visit from the Tooth Fairy. As an adult, however, tooth loss is not nearly as exciting. Nevertheless, there is something you can look forward to: replacing that missing tooth with a dental implant. This state-of-the-art solution uses the latest technology, techniques, and materials to replace missing teeth with something that's virtually indistinguishable from the real thing. Dr. Gupta and her team at Lancaster Family Smiles can take care of the entire process, from the delicate oral surgery for placing the implant to the finishing touch of a new porcelain crown or an implant denture. You'll never need to see another dental provider during the process because Dr. Gupta is highly trained and experienced in placing and restoring dental implants in Lancaster. If you're ready to learn more about dental implants from our Lancaster, TX dentist, keep reading or call us today to schedule your consultation!
Why Choose Lancaster Family Smiles For Dental Implants?
Advanced Technology for Precise,
Long-Lasting Results
Entire Dental Implant Treatment
Completed Under One Roof
Dental Insurance Welcome
& Numerous Financing Options Available
What Are Dental Implants?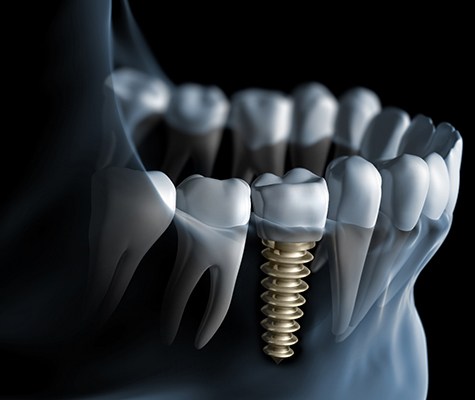 A dental implant is a small titanium post. It can be inserted directly into the jawbone where a missing tooth once was and topped with a custom-made crown, bridge, or denture. With this method, dental implants replace the entire structure of a missing tooth from root to crown. Other tooth replacement options like dentures or dental bridges only replace the crowns of missing teeth, which means they lack the stability and functionality dental implants can offer. Plus, dental implants do not have any impact on nearby teeth or gum tissue; they are stand-alone tooth replacements.
In addition, dental implants help you keep a more youthful appearance. When you have missing teeth, or you wear a traditional bridge or denture, there isn't a root to stimulate blood flow in your jawbone. As a consequence, bone tissue begins to degenerate, and your jaw can eventually look shrunken. Dental implants encourages healthy new bone tissue growth, so you can look forward to having a full smile set in a full face, too.
Lancaster Family Smiles vs Other National Chains
If you're planning to get dental implants, you'll need to decide whether Lancaster Family Smiles or other national dental implant centers would best fulfill your needs. You can rest assured that at our dental office, you can look forward to expert care from a team of dedicated specialists who can handle every aspect of the dental implant process. We'll also work with you to make sure the treatment is affordable.
| | |
| --- | --- |
| | Lancaster Family Smiles |
| One Cost | $20,000 |
| No Surprise Fees | |
| Financing and Payment Plans | |
| Expertise & Training | |
| In-House Sedation | |
| Personalized Touch & Attention | |
| We Guarantee Our Work | |
| All-in-One Center | |
| Dedicated, Same Team at Every Visit | |
| Temporary Bridge & Final Prosthesis Included | |
The 4 Step Dental Implant Process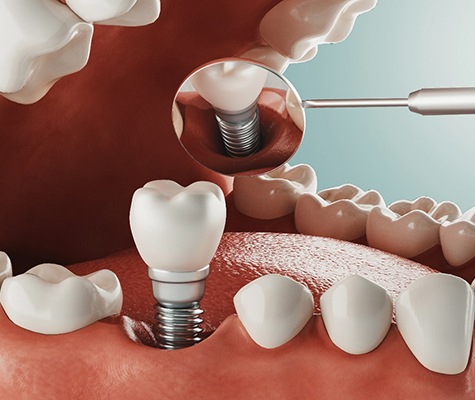 As you might suspect, rebuilding missing teeth requires a different process than simply replacing them with options like dentures or bridges. Thankfully, at Lancaster Family Smiles, Dr. Gupta and her experienced team have all the training and state-of-the-art technology needed to perform the entire process right here in-office. She will personally ensure your comfort and confidence throughout your treatment and you'll save time and money instead of visiting an outside specialist. While each treatment is taiored to the specific needs and goals of the patient, there are four main steps you can expect to complete when getting dental implants: the initial consultation, dental implant surgery, osseointegration, and the delivery of your new replacement teeth.
Initial Dental Implant Consultation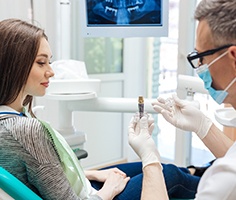 At your implant consultation, your Lancaster implant dentist Dr. Gupta will evaluate the state of your oral health to make sure that dental implants are the right treatment option for you. She will take detailed X-rays of your mouth to determine whether your jawbone is currently strong enough to support as many dental implants as you need. We'll map out a customized treatment plan, including any preliminary procedures that might be necessary, like gum disease therapy or a bone graft to strengthen a weakened jawbone. Once these treatments are taken care of, you can move on to the dental implant placement surgery.
Dental Implant Surgery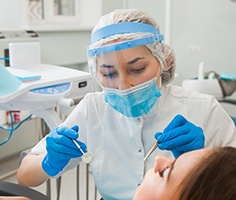 One of the main advantages of seeing Dr. Gupta for dental implants is that she can perform the entire process under one roof without having to refer you to an outside specialist. This will ensure that the process is smoother and more precise as well as comfortable.
During the implant placement surgery, Dr. Gupta will numb your mouth with local anesthetic (and provide sedation if needed) and make a small incision in your gumline. This will expose the underlying bone, into which she will insert the implant. The number of incisions made will depend on how many teeth you're replacing. After the implants have been placed, she'll stitch you up and send you home to heal.
Dental Implant Osseointegration & Abutment Placement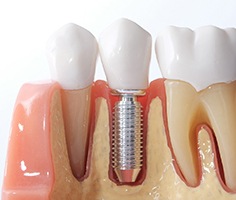 Following your surgery, an almost magical process called osseointegration will occur. During the next three to six months, your jawbone will actually grow around your implants until they are essentially the same structure. This process allows your implants to feel like a completely natural part of your smile. After you've fully healed and osseointegration is complete, you'll return to our Lancaster dental office, where you'll undergo another minor surgery. We'll add a small metal attachment to the top of your implant, called an abutment. This piece will allow the implant to be connected to your custom restoration.
Delivery of Dental Implant Restorations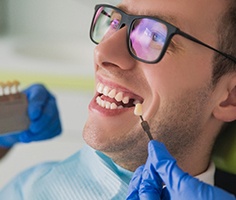 No matter how many teeth you're having replaced, we can restore them with either a dental crown, a bridge, or even a full denture. We work closely with dental lab technicians who will use custom impressions of your mouth to craft beautifully lifelike restorations for your implant. Your new teeth will be designed to match the shape, size, and color of your natural teeth, so your implants will blend right in with the rest of your smile.
Benefits of Dental Implants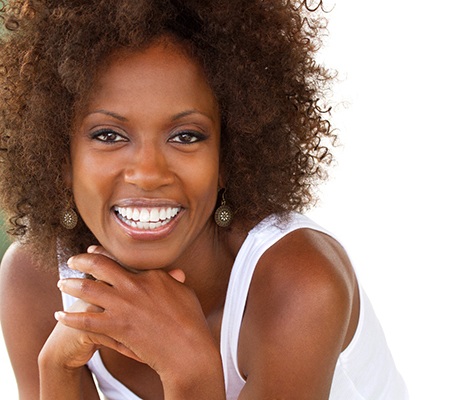 While dentures and bridges remain time-tested solutions for tooth loss, in the past few decades dental implants have become the most popular solution for filling in gaps in patients' smiles. About 500,000 new dental implants are placed every year in the United States in order to support crowns, bridges, and even full dentures. When you compare the benefits of traditional tooth replacement options and dental implants, it's easy to see why this modern solution is such a popular choice. Dental implants have the ability to improve your quality of life in ways that traditional options simply can't by providing benefits like:
Reliable results: Dental implants truly feel and function just like a normal tooth, giving you added confidence to eat, chew, and speak without worry.
Easy to clean: Brushing, flossing, rinsing, and regular visits to see Dr. Gupta are all you need to keep your dental implant clean, healthy, and firmly in place.
Long-lasting: A dental implant can easily last for decades. In fact, with proper care, most patients enjoy their dental implants for a lifetime.
No harm to nearby teeth: Unlike a traditional fixed bridge, no nearby teeth need to be altered to place one or more dental implants.
No gum irritation or soreness: Unlike traditional dentures, dental implants won't place any extra pressure on your gums.
High success rate: Dental implants boast an impressive 95% success rate, even 10 years after their placement.
Natural appearance: The restorations that top dental implants are customized to match your natural teeth from all-ceramic material to blend in seamlessly when you smile.
Maintain a youthful appearance Dental implants are the only tooth replacement solution to prevent jawbone deterioration, which will help you maintain a youthful, healthy appearance.
Save money in the long run: While dentures and dental bridges need to be replaced every several years, the one-time cost of dental implants can easily last a lifetime, making it the more cost-effective solution overall!
Who Dental Implants Can Help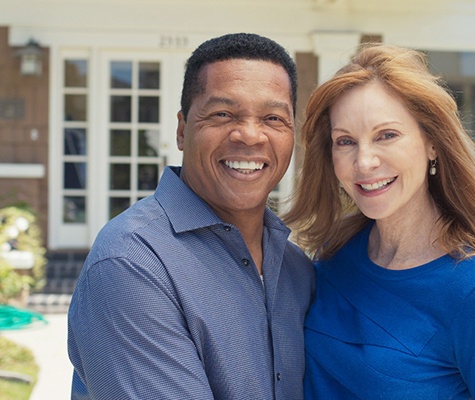 Dr. Gupta can use dental implants to replace one tooth, multiple teeth, or even full smiles. The type of dental restoration that you need will depend on the number of teeth that you're missing and your personal needs.
Missing 1 Tooth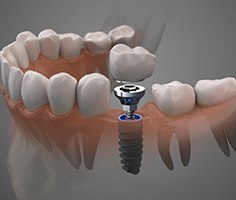 For a single missing tooth, we can seamlessly complete your smile with an implant-retained dental crown. Our crowns are custom-made to match your natural grin, and they allow you to enjoy a complete set of teeth without affecting your surrounding dental structure.
Missing Multiple Teeth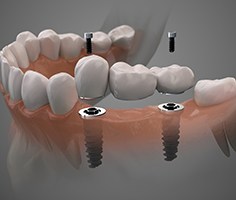 If you're missing multiple teeth consecutively, our dentist in Lancaster will recommend an implant bridge. This personalized prosthetic is designed to literally "bridge" the gap in your smile. Dr. Gupta will place a dental implant on either side of the space to provide a permanent and sturdy support for your bridge instead of altering your remaining healthy teeth.
Missing All Teeth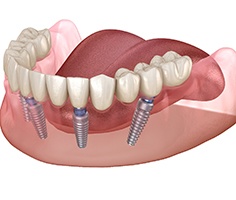 Are you missing all your teeth? Are you tired of slipping, ill-fitting dentures? No need to worry, Dr. Gupta can use several strategically placed dental implants to support a full denture. In some cases, she may even be able to retrofit a patient's existing denture to work with dental implants Either way, an implant denture allows us to replace your whole smile at once while giving you the strength and health benefits of dental implants.
Learn More About Implant DenturesLearn More About Denture Stabilization
Traditionally, you might have to wait several months for your mouth to heal before your implants can support dentures. However, with the All-On-4, All-On-6, and Teeth-In-A-Day techniques, you won't have to wait to enjoy a new smile. As the names of these procedures suggest, four to six dental implants will be placed in your jaw at specific angles so that they bond with the areas of the jaw where bone density is highest. Temporary dentures can be installed right away until the permanent dentures are ready. If you're interested in these unique dental implant solutions, we'll be happy to discuss them with you at your initial consultation.
Learn More About All-On-4/All-On-6 Learn More About Teeth-In-A-Day
Understanding the Cost of Dental Implants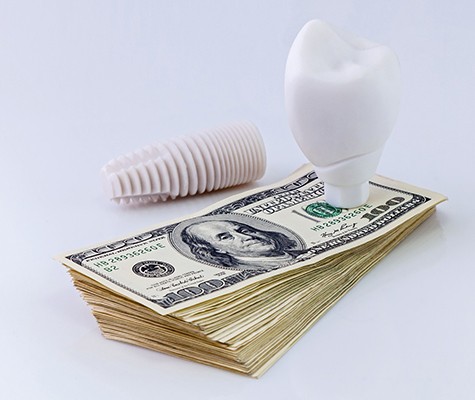 The cost of dental care is one of the leading reasons patients give for avoiding their necessary dentistry services. At Lancaster Family Smiles, we want the care our patients need to fit their budgets. We are always happy to process and file dental insurance claims to help offset the out-of-pocket costs of dental care. If you need to replace one or more missing teeth, Dr. Gupta and her dedicated Lancaster team will work with you to make the cost of dental implants affordable. As a fellow of the International Congress of Oral Implantologists, Dr. Gupta has advanced training and experience in providing safe, effective dental implant placement, and she has worked with numerous patients to budget for their brand-new smile
How Much Do Dental Implants Cost?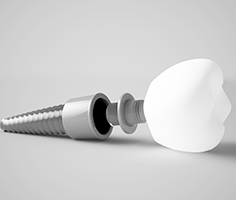 Remember, the dental implant itself is the small, titanium post that gets inserted into the jawbone. Typically, each one can cost between $500 and $3000 depending on a number of variables, including the size of the implant, material used, and the manufacturer.
You'll also need to consider the cost of the abutments (connector pieces) and the final restoration that will top the dental implant, such as a crown, bridge, or denture. Each of these parts of your dental implant will incur their own cost.
What Other Variables Affect the Cost of Dental Implant Treatment?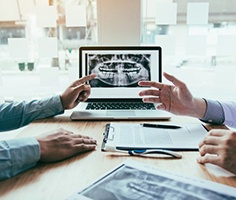 When it comes to calculating the final cost of a dental implant treatment, there are several factors and variables that need to be accounted for, including the cost of:
Preliminary treatments, such as tooth extractions, gum disease therapy, or bone grafting
The dental implant surgery, the price of which will be influenced by where in the mouth the dental implants are being placed and the use of sedation or anesthesia.
Number of dental implants, naturally, the more dental implants you need, the higher your overall cost will be.
Type of dental implants, since different brands, materials, and techniques will all have different costs.
The final restoration, since dental crowns, bridges, and dentures all have their own prices.
Can I Use My Dental Insurance Coverage?
Dental implants themselves are not usually covered by insurance policies, but other aspects of your treatment usually will be. The preparatory services, dental sedation, and replacement teeth will likely all receive some benefit coverage. Our helpful team will be happy to help you understand the details of your specific dental insurance policy and what it covers.
Learn More About Dental Insurance Coverage
How Can Lancaster Family Smiles Help Me Fit Dental Implants Into My Budget?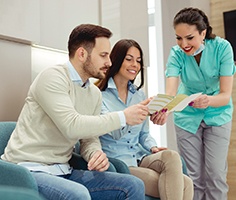 Our team will maximize your dental insurance coverage whenever possible. We also offer a variety of flexible financing options to help break up the cost of your treatment. Many plans offer low- to no-interest rates that can divide the price of your treatment into more easily managed monthly payments. Feel free to apply online or give us a call to learn more about options like CareCredit, Lending Club, Greensky, Proceed Finance, and United Medical.
Maintaining & Caring for Your Dental Implants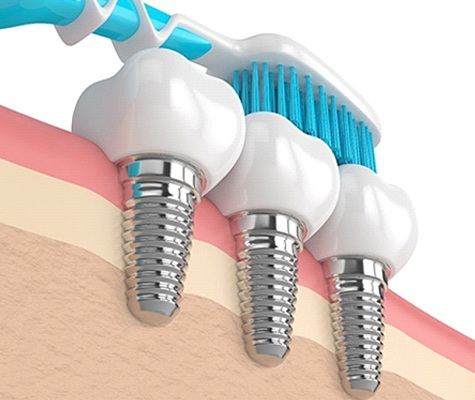 Once your dental implants are in place and your prosthetic teeth have been secured on top of them, you can expect your new smile to last for many years or even decades to come. That is, as long as you practice proper dental implant care in Lancaster. Dr. Gupta and the rest of our team would love to help you enjoy your implants for a lifetime, which is why we've provided these five easy tips for maximizing their lifespan.
Make Oral Hygiene a Priority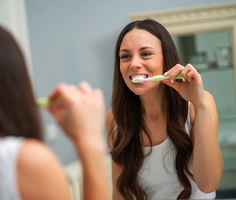 While your implants won't get cavities, they can fall victim to gum disease if you don't maintain proper oral hygiene. This could ultimately lead to dental implant failure. Luckily, cleaning your implants is simple. In most cases, you can brush and floss as you usually would with natural teeth. If you have a more advanced restoration like an implant bridge or fixed implant denture, you may want to invest in an air or water flosser. This device makes it easy to remove the plaque that can accumulate between your replacement teeth and your gumline.
Eat a Healthy Diet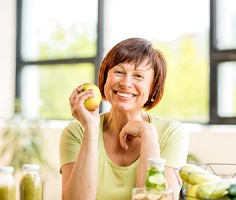 Even though you can eat practically anything you'd like with dental implants in Lancaster, you should still try to stick to a nutritious diet. Overindulging in starchy or sugary foods or beverages could contribute to plaque buildup, increasing the risk of harm befalling your implants. These items are fine to enjoy every once in a while, but make sure your diet primarily consists of healthy foods and drinks, such as fresh fruits, vegetables, and dairy products.
Break Bad Habits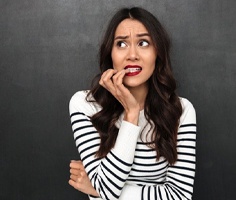 If you want to avoid an emergency dental visit, you should try to kick some habits that could put your implants at risk. Smoking, nail-biting, eating ice, chewing on pens, and opening bottles with your teeth are all examples of habits that could damage your pearly whites (both the natural and implant-supported ones). After investing so much time and money into your implants, the last thing you want is to have to replace your tooth replacements. Our team can point you toward resources designed to help you quit smoking, and can provide tips for breaking other dangerous habits.
Protect Your Dental Implants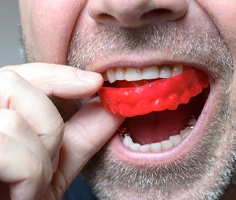 Do you grind your teeth while you sleep? Do you play sports? If the answer to either of these questions is "yes," then it would behoove you to ask your implant dentist in Lancaster about a custom mouthguard. These trays are personalized to comfortably fit over your unique set of teeth, shielding them from grinding-related wear and tear as well as sporting injuries. Because our mouthguards are custom-fit, they're more effective and comfortable than the appliances you'll find in stores.
Schedule Regular Dental Checkups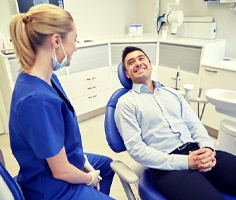 In addition to caring for your implants at home, you'll also need to visit with Dr. Gupta for regular dental checkups and cleanings. Usually, these visits should occur every six months. Our team can professionally clean your implants and restorations to keep them in pristine condition, and Dr. Gupta can detect small issues early enough to treat them before they spiral into major problems.
Dental Implant Frequently Asked Questions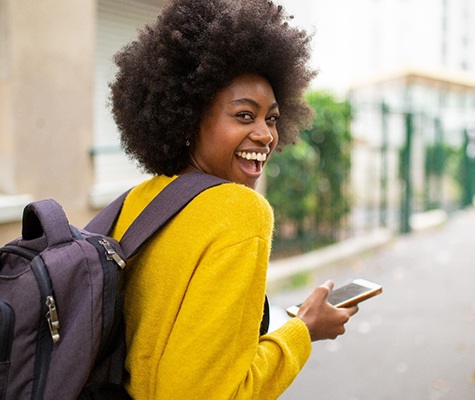 Are you interested in getting dental implants, but have a few questions you'd like to get answered before committing to coming in for a consultation? Below, our team has answered some of the most common concerns that we get about dental implants in Lancaster so you can make the best-informed decision for your smile. If you don't see the information you're looking for, please don't hesitate to contact our friendly team directly.
Does getting dental implants hurt?
When our team prepares you for dental implant surgery, we'll inject a local anesthetic into the area that we're treating, which will completely numb that part of your mouth. This will ensure that you don't feel any discomfort throughout the surgery. If necessary, we may also administer dental sedation as well, which will help you feel calm and relaxed in the treatment chair.
What causes dental implant failure?
Even though dental implants boast an impressive 95% success rate, implant failure is possible if you don't take proper care of them after they're placed. The most common cause of implant failure is an infection known as peri-implantitis, which is a site-specific infection that causes soft tissues to become inflamed and can cause bone loss that prevents osseointegration. To avoid this, you'll need to maintain good oral hygiene and visit your implant dentist in Lancaster every six months for professional cleanings and checkups.
Am I too young to get dental implants?
Good candidates for dental implants must have fully developed jaws, which typically doesn't occur until young adulthood. This is why dental professionals typically don't place implant posts in patients who are younger than 18. To learn whether you're a good candidate, please contact our dental office to schedule a consultation with our team today.
How long does it take to recover after dental implant surgery?
Most patients who receive dental implant surgery are able to return to their daily routines the day after their procedures. However, this can vary depending on complications that could arise and how many dental implants you needed to have placed. We recommend avoiding strenuous exercise and giving your body a day or two to start the healing process so you can make a speedy recovery. We'll provide you with additional post-operative care tips after your surgery.
Will people be able to tell that I have dental implants?
Dental implant-retained restorations are unique in the fact that they're made to look and function just like your natural teeth. This makes them virtually indistinguishable from other home-grown pearly whites in your smile. That way, onlookers can't tell which of your teeth are replacements and which aren't.