The Cost of Dental Implants – Lancaster, TX
Dental Implants from the Experts
The cost of dental care is one of the leading reasons patients give for avoiding their necessary dentistry services. At Lancaster Family Smiles, we want the care our patients need to fit their budgets. We are always happy to process and file dental insurance claims to help offset the out of pocket costs of dental care. Unfortunately, dental implant tooth replacement, one of the best restoration options, isn't covered by most insurance plans. If you need to replace one or more missing teeth, dental implants may be the right solution to meet your needs, and our skilled dentist, Dr. Mahima Gupta, and her dedicated Lancaster dentistry team will work with you to make the cost of dental implants affordable.
Why Choose Lancaster Family Smiles for Dental Implants?
Precise Placements
Using Cone Beam CT Scanner
One Location for
Placement and Restoration
Open Seven Days
a Week
Dental Implant Expertise in Lancaster that Gets Results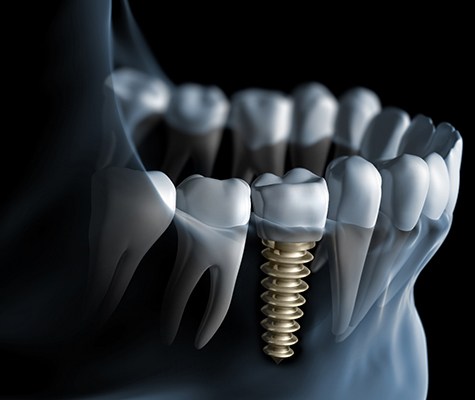 As a fellow of the International Congress of Oral Implantologists, Dr. Gupta has advanced training and experience in providing safe, effective dental implant placement, and she has worked with numerous patients to budget for the cost of dental care. On this page, we'll review some of the factors that impact the cost of dental implant tooth replacement plans, but the only way to receive complete pricing information is to call Lancaster Family Smiles to schedule a tooth replacement consultation. During a consultation appointment, we'll review your smile, discuss your tooth replacement options, carefully explain the pricing of every step of treatment, and help you make the right choice to restore your unique smile.
How Much do Dental Implant Posts Cost?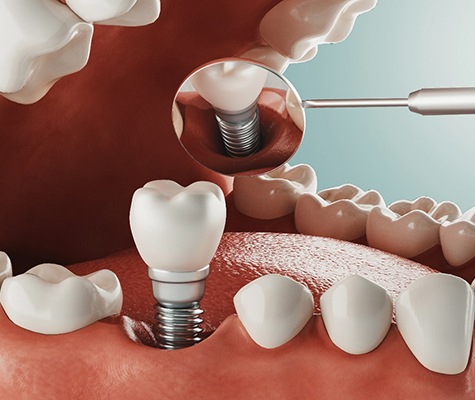 The dental implant posts themselves can cost between $500 and $3000 depending on a number of variables, including the size of the implant, material used, and the manufacturer.
What Other Variables Affect Dental Implant Tooth Replacement Cost?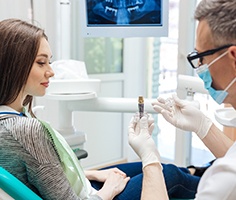 In addition to the cost of the dental implants and their surgical implantation, you'll need to keep the following in mind:
Preparatory tooth extractions, tissue grafts, and other treatments
Dental sedation to ensure complete comfort
The replacement crown, bridge, partial, or full denture
Can I Use My Dental Insurance Coverage?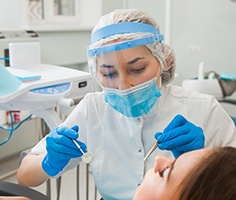 Dental implants themselves are not usually covered by insurance policies, but other aspects of your treatment will be. The preparatory services, dental sedation, and replacement teeth will likely all receive some benefit coverage.
Learn About Dental Insurance Coverage
How Can Lancaster Family Smiles Help Me Fit Implants into My Budget?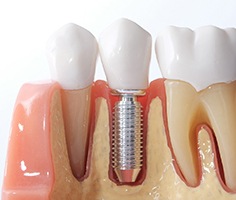 Our team will maximize your dental insurance coverage whenever possible. We also offer low and no interest financing through CareCredit. We will bill for each part of the dental implant tooth replacement process in order to help patients budget for their care over the entire process of restoration rather than paying for the entire restoration plan all at once.
Why is Dental Implant Tooth Replacement Worth the Price?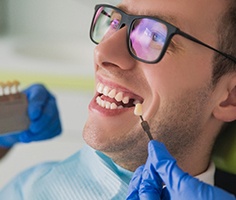 Many patients wonder why dental implant tooth replacement is worth their initial investment of time and money. There are a number of benefits that make dental implants worth the cost, including:
Longevity – traditional tooth replacement options need to be replaced every five to ten years, but implant supported replacement teeth can last two decades or longer with proper care.
Stability – implant supported restorations feel and function much more like natural teeth, so patients can speak, chew, and smile with complete confidence.
Natural appearance – because dental implants replace the roots of missing teeth, patients have natural functioning smiles, but they also have smiles that look flawless.
How Dental Implants Work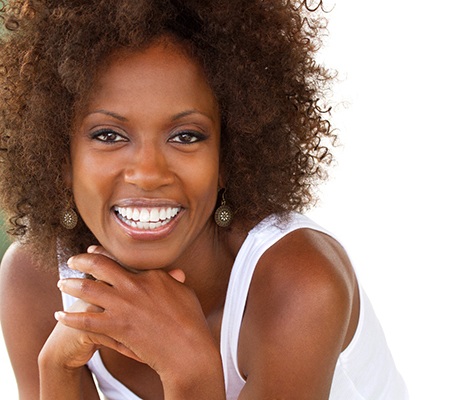 Losing a tooth used to be so much fun! Everyone was so excited, and you could look forward to a visit from the Tooth Fairy. As an adult, however, tooth loss is not nearly as exciting. Nevertheless, there is something you can look forward to: replacing that missing tooth with a dental implant. Dr. Gupta and her team at Lancaster Family Smiles can take care of the entire process, from the delicate oral surgery for placing the implant to the finishing touch of a new porcelain crown or an implant-retained denture. You'll never need to see another dental provider during the process because Dr. Gupta is highly trained and experienced in placing and restoring dental implants in Lancaster.
Learn More About How Dental Implants Work
The Benefits of Dental Implants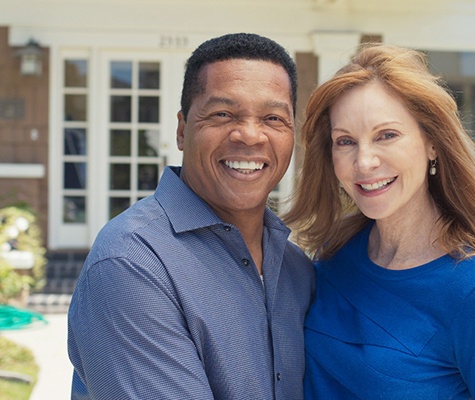 Unlike other tooth replacement choices such as dentures or a crown and bridge, a dental implant replaces the entire tooth structure from crown to root. The others only replace the crown, or visible portion. Thus, a dental implant offers stability that you simply cannot get with any other type of replacement. Plus, dental implants do not have any impact on nearby teeth; they are stand-alone tooth replacements.
In addition, dental implants help you keep a more youthful appearance. When you have missing teeth, or you wear a full or partial denture, there isn't a root to keep your jawbone healthy. As a consequence, bone tissue begins to degenerate, and your jaw can eventually look shrunken. Dental implants stimulate healthy new bone tissue growth, so you can look forward to having a full smile set in a full face, too.
Learn More About the Benefits of Dental Implants
Indications for Dental Implants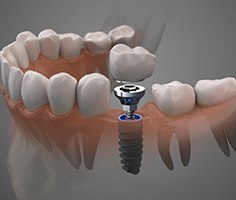 Dr. Gupta can use dental implants to replace one tooth, multiple teeth, or even full smiles. The type of dental restoration that you need will depend on the number of teeth that you're missing and your personal needs.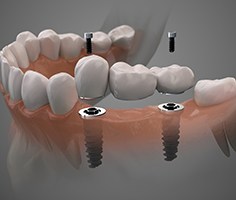 Missing Single Tooth
For a single missing tooth, we can seamlessly complete your smile with an implant-retained dental crown. Our crowns are custom-made to match your natural grin, and they allow you to enjoy a complete set of teeth without affecting your surrounding dental structure.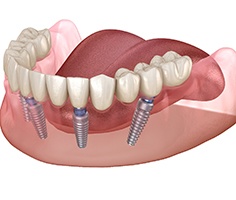 Missing Multiple Teeth
If you're missing multiple teeth consecutively, our dentist in Lancaster will recommend an implant-retained bridge. This personalized prosthetic is designed to literally "bridge" the gap in your smile. Dr. Gupta will place a dental implant on either side of the space in your smile to provide a permanent and sturdy support for your bridge.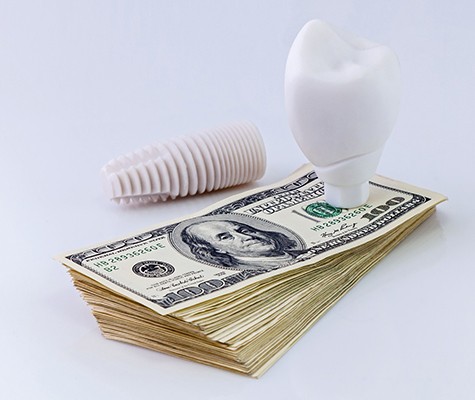 Missing All Teeth
Are you missing all your teeth? No need to worry, Dr. Gupta can use an average of four strategically placed dental implants to support a denture. This allows us to replace your whole smile at once while giving you the strength and health benefits of dental implants.
All-on-4/All-on-6
& Teeth-in-a-Day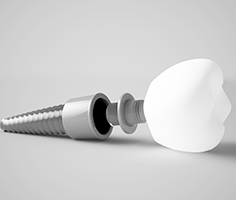 Traditionally, you might have to wait several months for your mouth to heal before your implants can support dentures. However, with the All-on-4 and All-on-6 techniques, you won't have to wait to enjoy a new smile. As the names of the procedures suggest, four to six dental implants will be placed in your jaw at specific angles so that they bond with the areas of the jaw where bone density is highest. Temporary dentures can be installed right away until the permanent dentures are ready.
Learn More About All-on-4/All-on-6
Learn More About Teeth-in-a-Day
Lancaster Family Smiles vs ClearChoice*
If you're planning to get dental implants, you'll need to decide whether Lancaster Family Smiles or ClearChoice would best fulfill your needs. You can rest assured that at our practice, you can look forward to expert care from a team of dedicated specialists who can handle every aspect of the dental implant process. We'll also work with you to make sure the treatment is affordable.
| | | |
| --- | --- | --- |
| | Lancaster Family Smiles | ClearChoice |
| One Cost | $20,000 | $28,000 |
| No Surprise Fees | | X |
| Financing and Payment Plans | | |
| Expertise & Training | | |
| In-House Sedation | | |
| Personalized Touch & Attention | | X |
| We Guarantee Our Work | | X |
| All-in-One Center | | |
| Dedicated, Same Team at Every Visit | | X |
| Temporary Bridge & Final Prosthesis Included | | X |
*Lancaster Family Smiles is not affiliated in any way with ClearChoice Dental Implant Centers, a registered limited liability company under ClearChoice Management Services, LLC.
Denture Stabilization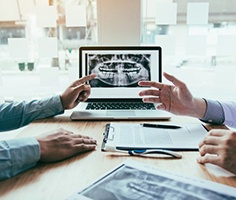 On their own, dentures make it possible for you to enjoy a varied diet, speak clearly, and smile confidently again. Some people, however, find that their false teeth become a nuisance if they start to move around too much. To keep your new teeth firmly in place, you can ask about having them anchored to dental implants. This will make chewing and speaking much easier than before. As a side benefit, you'll be able to brush and floss as if you have natural teeth again.
Learn More About Denture Stabilization
Dental Implant Frequently Asked Questions (FAQs)
Before you begin an advanced dental treatment plan like implant tooth replacement, we know you will have a lot of questions. On this page, we'll provide answers to some of the questions we hear most often, but it's by no means a comprehensive list. Please don't hesitate to call our Lancaster dental office to find out more or schedule a treatment consultation with our skilled dentistry team members.
Are Dental Implants Painful?
Many patients are concerned about the pain associated with advanced restorations like dental implants. At Lancaster Family Smiles, we work with patients to ensure their complete comfort throughout the dental implant placement and restoration process. We use local anesthesia and dental sedation as necessary to keep patients completely comfortable throughout the course of treatment. Following your implant placement, you may experience some discomfort as the implantation site heals. We will work with you to provide over the counter or prescription pain reliever medications to keep you completely pain free throughout the healing process.
What is the Healing Process for Dental Implants?
Following the placement of your dental implant post, a protective cap is attached over the healing site. This performs two functions. The protective cap shields the implant post as it heals, and it maintains the necessary space in the gum line for us to attach an abutment post and the replacement tooth or teeth once the implant has fused with the gum and bone tissue.
Can I Have All of My Teeth Replaced with Dental Implants?
We can use strategically positioned dental implant posts to replace any number of missing teeth from a single tooth to numerous consecutive and nonconsecutive teeth or a full arch of teeth.
How Do I Take Care of Dental Implants?
Once your dental implants are in place and restorations are attached, we can help you maintain your healthy new smile during six-month dental exams and teeth cleanings. When you're at home, you'll need to brush and floss your teeth as usual. You may need to invest in an air or water flosser if you have a more advanced restoration like an implant fixed bridge or denture. Using an air or water flosser, you can remove the plaque buildup that can accumulate between your replacement teeth and the gum line.
How Long Do Dental Implants Last?
With proper care, patients can keep their dental implant supported replacement tooth for two decades or longer. In fact, many patients can maintain the same flawlessly repaired smiles for the rest of their lives. This is compared to traditional crowns, bridges, and dentures that need to be repaired or replaced every five to ten years to ensure optimal function.