Teeth Whitening – Lancaster, TX
Say Good-Bye to Tooth Stains
At Lancaster Family Smiles, we want patients to feel great about showing off their smile, not hiding it behind their hands at every opportunity. Sadly, this can happen because of dental discoloration and staining, which tends to leave teeth looking lackluster over time. Thankfully, Dr. Mahima Gupta has the perfect treatment – teeth whitening. With both in-office and take-home solutions available, patients will be amazed by the beautiful transformations our team can create! Contact our Lancaster, TX dental office today if you'd like to schedule a consultation or you have any further questions about your options for teeth whitening in Lancaster, TX. We see patients from all over the Dallas area and beyond.
Why Choose Lancaster Family Smiles for Teeth Whitening?
Expert Dentist Oversees Entire Process
Family-Friendly Private Dental Office
Specially Customized Take-Home Kits
Reasons for Teeth Whitening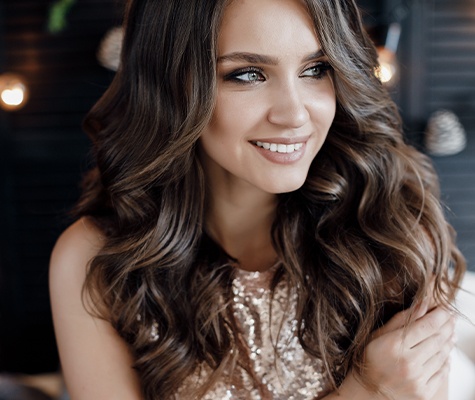 Teeth become stained over time for a wide variety of reasons, including:
Dark Drinks – If a drink is capable of staining a couch or a carpet, that means it can have the same effect on your teeth. Patients can minimize these effects by enjoying their drinks with a straw or drinking water directly afterwards.
Colorful Food – Certain darkly or brightly colored fruits and other foods lead to stains. Be sure to brush your teeth after eating!
Aging – Over time, the enamel of your teeth starts to wear down allowing the natural yellow color to shine through more clearly. The amount of enamel you have to start with depends on genetics.
Certain Medication – There are certain over-the-counter medications that lead to yellow or gray stains. If you suspect something you're taking is having this effect, let Dr. Gupta know.
Too Much Fluoride – Too much of this helpful mineral before permanent teeth erupt can lead to chalk-like spots forming on your teeth.
A Poor Oral Hygiene Routine – By not removing staining substances from your teeth with routine brushing and flossing, patients allow dangerous bacteria to build up and cause more and more damage and discoloration.
In-Office Teeth Whitening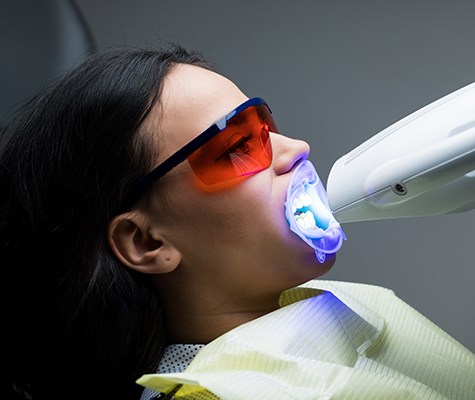 Do you have a busy schedule that prevents you from attending multiple appointments? Is there a special event coming up on short notice that you'd love to look your very best for? In these cases, Dr. Gupta often recommends our in-office ZOOM! Whitening procedure for fast, dramatic results that are sure to exceed your expectations.
This procedure works by essentially exfoliating stains from inside your teeth and restoring a more natural shade. Our team will apply a high-grade whitening gel to your teeth and activate its effects with a special light; patients simply sit back and relax throughout this process with their gums, eyes, and lips completely protected. After a few, short sessions during which old gel is removed and new gel is applied, you'll see gorgeous changes! In fact, most patients find their teeth have been lightened by several shades.
When undergoing teeth whitening, it's important to remember that any existing crowns or other restorations won't whiten like your natural smile. Patients may also experience increased sensitivity and discomfort a short while after their procedure, which should be brief.
Learn More About Kor Teeth Whitening
Take-Home Teeth Whitening Kits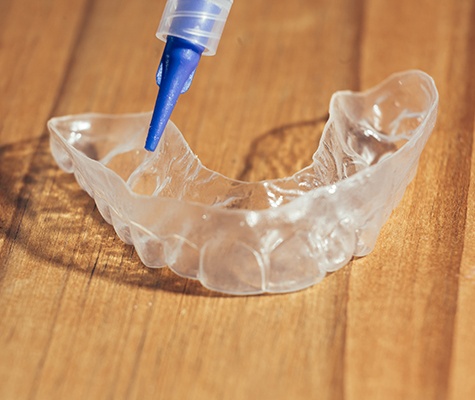 On the other hand, take-home kits are often ideal for patients who feel uncomfortable with the idea of dramatically changing their smiles all at once, or who need their treatment to be flexible to fit with a hectic schedule. Instead of turning to over-the-counter kits at your local pharmacy, we strongly recommend receiving a custom set from Dr. Gupta! We'll provide you with strong whitening gel and personalized oral trays that fit your smile comfortably. The patients' job is simple –just wear both together for a certain amount of time each day. You can do this in the comfort of your own home whenever you have a little free time; in fact, you can watch television, read a book, or do chores while your teeth are becoming brighter. In just a few weeks, you'll start to see beautiful changes.