Restorative Dentistry – Lancaster, TX
Fixing Injured Teeth and Stopping Further Dental Damage
When you're suffering from dental injury or pain, the last thing you should do is put it off. At Lancaster Family Smiles, patients don't have to worry about being subjected to unfair judgment about the state of their oral health – seeking help is already a step in the right direction, and Dr. Mahima Gupta and the rest of our team can't wait to help you regain your ideal smile in a friendly and personalized environment. Our restorative services are designed to treat chipped teeth, lost teeth, and issues in-between; sedation dentistry is available as well for patients who struggle with dental-related anxiety or fear. Contact us today to schedule an appointment for restorative dentistry in Lancaster, TX! Our dental office is located in Lancaster, TX, and new patients from Dallas and beyond are welcome.
Why Choose Lancaster Family Smiles for Restorative Dentistry?
Open Seven Days a Week
Advanced Technology for Diagnosing Dental Damage
Compassionate, Caring Dentist and Team
Dental Crowns & Bridges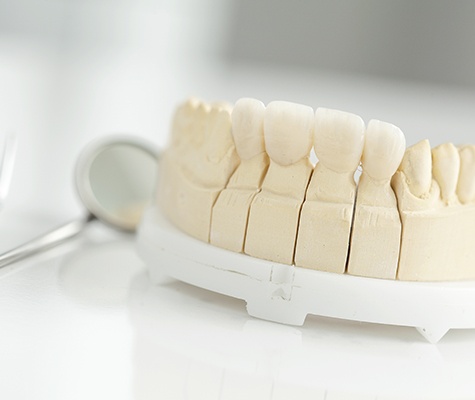 When a tooth is injured, decayed, or even lost, it's important to have it restored as soon as possible so further damage doesn't occur and the patient doesn't have to struggle with a loss of oral function and appearance for too long. In these cases, Dr. Gupta often recommends a custom dental crown and/or bridge as a lifelike and durable solution!
Dental crowns are designed to fit over the white, visible portion of the tooth restoring its shape and providing protection in a way that feels natural. Our Lancaster team recommends crowns in a variety of situations including dental decay that's too severe for a filling to treat, overall weakened structure, a significant injury, cosmetic concerns, and as the finishing touch for a root canal or dental implant procedure. In most cases, dental crowns will take two appointments to place successfully – the first one will involve impressions and the placement of a temporary crown, and the second appointment is scheduled when your permanent crown is ready.
Dental bridges consist of multiple dental crowns that have been fused-together to create a sturdy tooth replacement solution. They can be used in any area with one or more missing teeth in a row, given that there are still healthy teeth on either side of the gap. This allows our team to anchor additional crowns over these teeth, which hold the bridge in place. Like dental crowns, bridges typically require two to three appointments to be designed and placed successfully.
Learn More About Dental Crowns and Bridges
Tooth-Colored Fillings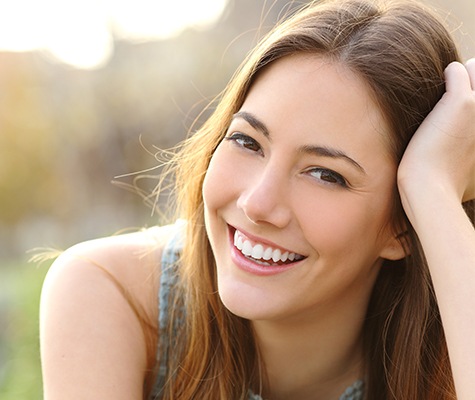 As long as tooth decay is found and treated in time, the cavities that formed as a result can be repaired with a simply filling. While fillings made from gold or other metals are available, you may be worried about the effect they'll have on your smile. For a more image-friendly solution, you can consider composite resin, a tooth-colored material that can be shaded to blend in with the enamel and molded to match the surrounding dental structure.
Dentures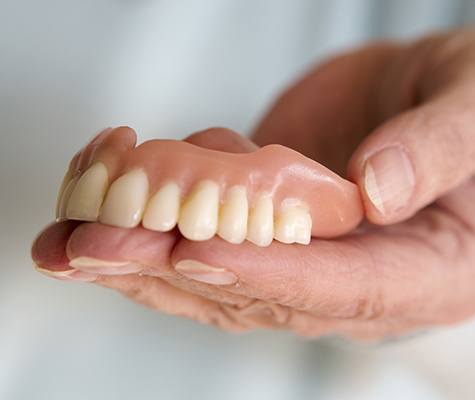 Dentures have been used to restore lost teeth for hundreds of years, and today, patients have options that are more aesthetically pleasing and durable than ever before in Lancaster, TX. Full dentures are designed to restore entire arches of teeth, and they usually can stay in place within a patient's smile through natural suction or some denture adhesive for extra security. Alternatively, partial dentures replicate a certain arrangement of teeth on just one arch, and clips and brackets hold them in their position securely. Both options are conveniently removable for your benefit.
Are you looking for a more lifelike solution to tooth loss? Dr. Gupta also offers implant-retained dentures. These resemble the traditional models, but they're designed to snap over placed implants for a very confident fit overall. Both fixed and removable options are available depending on the patient's personal preference.
Learn More About Dentures & Partials
Root Canal Therapy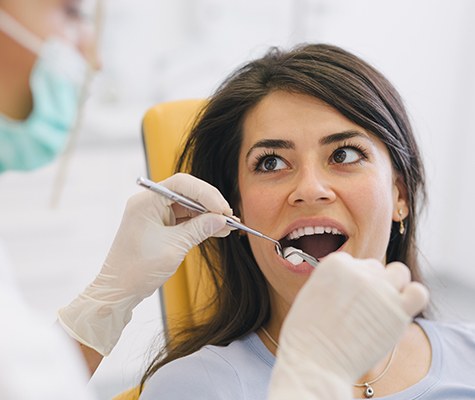 At Lancaster Family Smiles, Dr. Gupta can complete most root canal therapy cases in just one visit! This procedure is necessary for cases where teeth become so decayed that a dental crown can't restore their health. Instead of having it extracted, we can carefully access the inner chamber and thoroughly clean bacteria preserving your natural smile.
Common signs that indicate the need for root canal therapy include:
A change in the tooth's color, usually from white to a darker gray
Discomfort or a loss of sensation in the gums around a certain tooth
Inflamed gum tissue around a certain tooth
Significant pain when a certain tooth is used to chew food or tapped in any way
Excessive sensitivity to especially hot or cold temperatures
Despite its scary reputation, today's advancements in technology and anesthesia have helped root canal therapy become no more uncomfortable than receiving a common filling, in most cases. Dr. Gupta is also happy to offer sedation dentistry as a way to help patients feel much more relaxed throughout their procedure. Additionally, the procedure has a high success rate, and many treated teeth last for the rest of the patient's life!
Learn More About Root Canal Therapy
Tooth Extractions
Do you have a tooth that was broken off beneath the gum line and can't be fitted with a crown? Are you suffering from an extremely painful toothache that can't be relieved with root canal therapy? Is there a tooth that could prevent the rest of your smile from receiving necessary orthodontic adjustment? In all of these situations, tooth extraction may be necessary, and Dr. Gupta will be here to make sure the process is as straightforward and comfortable as possible.
Learn More About Tooth Extractions
Wisdom Tooth Extractions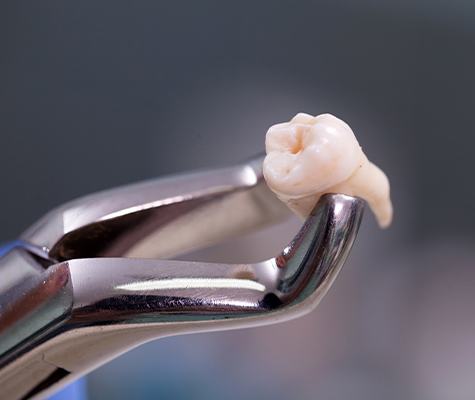 Third molars (also known as wisdom teeth) are the last teeth to emerge in a patient's permanent smile. Because of this late arrival, they often don't have quite enough room leading to potentially serious problems like overcrowding, impaction, infection, abscesses, and more. Here in Lancaster, we protect your oral health and overall wellbeing by extracting one or more of your wisdom teeth. Dr. Gupta will closely monitor the situation with the help of digital X-rays, and if she determines that the procedure is needed, our team will be sure to take you through the process as smoothly and comfortably as possible. Sedation dentistry is available as well for additional relaxation and pain relief!