Dentures – Lancaster, TX
Natural-Looking Restorations for Multiple Missing Teeth
If there's one form of tooth replacement that has proven to be reliable for centuries, it's dentures. Not only have they been around for ages, but they work to prevent many issues that result in chronic tooth loss. Whether you're missing a handful of teeth in multiple arches or missing all of your teeth in one arch or both, dentures from Dr. Gupta's office are sure to make your daily life easier and protect your oral health. Contact our office to get started!
Why Choose Lancaster Family Smiles for Dentures?
Dental Implants Available for Denture Stabilization
Private Practice That Focuses on Great Customer Service
High Quality Treatment at Affordable Rates
Why You Should Replace Missing Teeth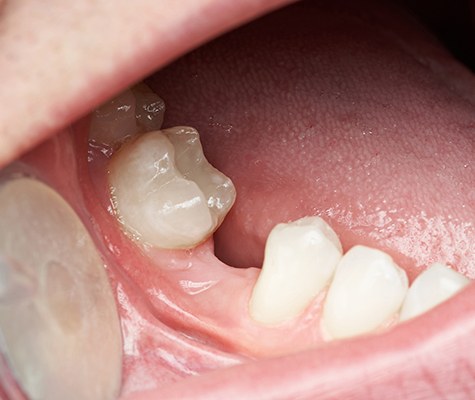 It doesn't matter if you're missing all of your teeth or just a handful, replacing the gaps in your smile with a high-quality denture can make a big difference in your oral health. When teeth are missing, neighboring teeth will begin to shift into the open space to compensate. This causes your overall bite to become misaligned, which can lead to other harmful conditions. These include chronic teeth grinding, TMJ dysfunction and enamel erosion. Even if you have no remaining teeth, having a denture ensures that your diet is more balanced and less limited. Those with missing teeth are far more likely to suffer from malnutrition. With a reliable denture, you can eat more of the foods you enjoy and avoid digestive problems later in life.
What are Full and Partial Dentures?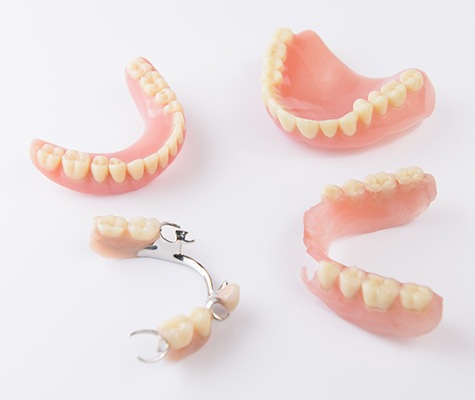 Full and partial dentures are detailed restorations designed to replace many teeth at a time. Full dentures are intended for those missing all of their teeth in an arch, while partial dentures work to replace teeth on opposite sides of your arch. Full dentures typically have an acrylic base, while partial dentures usually have a metal base. Both utilize porcelain teeth in order to create a natural-looking smile.
Both partial and full dentures are designed to be removable for easy cleaning and maintenance. Our office will go over the best methods for keeping your denture clean and making it last for many years.
Benefits of Dentures
It's obvious that dentures help you improve multiple aspects of your diet. However, did you know that dentures also make it easier for you to speak clearly? Because the tongue relies on teeth when pronouncing certain words, tooth loss can result in lisped or slurred speech.
Additionally, dentures are more lifelike than ever before thanks to the improved quality of dental materials used to create them. Once you've gotten used to your new denture, you'll be able to smile, speak and eat with more confidence than ever before.
The Denture Process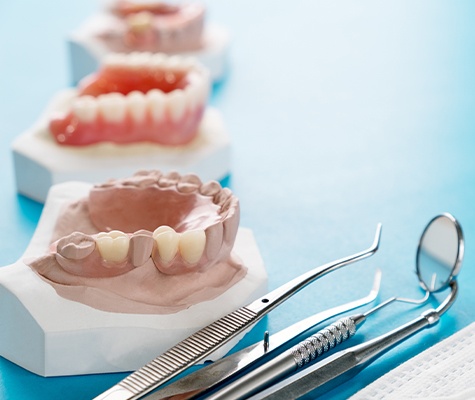 During your consultation, Dr. Gupta will go over your needs and determine whether a full or partial denture would work best for you. After examining your mouth, we'll take impressions in order to capture a reliable model for your future denture. The fabrication process for a denture takes about three to six weeks depending on the complexity. Over the course of several visits, we'll make sure that your denture not only fits your mouth properly but is also color-matched to your current oral structures. Once fully fabricated, we'll do a final fitting and go over proper maintenance tips and techniques to help you adjust to your denture more quickly.
Denture Alternatives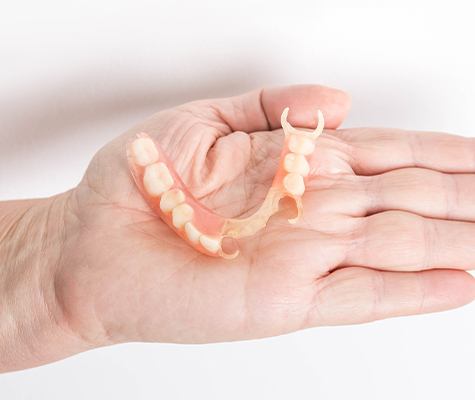 Dentures are probably the most well-known form of tooth replacement, but they're far from your only option. When you still have plenty of healthy teeth, you might consider a dental bridge instead. And of course, even if you are getting dentures, you can have them supported by implants instead of letting them rest on your gums.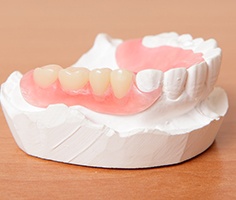 Dental Bridges
We use dental bridges to fill in the gaps left behind in your smile whenever you've lost one or more teeth in a row. Unlike partial dentures that are held in place by a clasp, bridges are permanently anchored to your natural teeth via porcelain crowns that hold several false teeth between them. Your dental bridge will be carefully shaded so that it matches the rest of your smile; most casual observers won't even realize that your grin ever had a gap in it.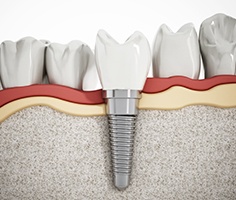 Dental Implants
The entire dental implant process – from surgery to receiving your new teeth – can be handled right here are Lancaster Family Smiles. While traditional dentures and bridges can only replace the visible parts of your teeth, implants help replace the entire dental structure, including the roots. As a result, your jawbone will once again benefit from the stimulation of chewing, and there will be no risk of your new teeth slipping out of place at the wrong moment.
Dentures Frequently Asked Questions (FAQs)
Wearing dentures will change your life in more ways than one; having a clear idea of what to expect before you actually receive your new teeth will help the adjustment process go much more smoothly. Below, you'll find the answers to some of the most common concerns that patients in the past have had regarding dentures.
Will Dentures Affect the Way I Feel, Look, Eat and Speak?
The answer is a definite yes! With dentures, you'll once again have a dazzling smile that you can feel good about showing to people that you're meeting for the first time. And of course, dentures are absolutely essential for performing everyday tasks like eating and speaking.
Do You Wear Dentures Throughout the Day?
We highly recommend wearing your dentures as much as possible during the day so that your mouth has a chance to get used to them. However, you should not be wearing them 24/7; it's best to remove them before bed in order to give your gums a chance to recover.
How Do You Properly Take Care of Dentures?
Remove and rinse your dentures after every meal, and thoroughly clean your mouth before putting them back in. Don't forget to brush dentures on a daily basis with a soft-bristled brush and nonabrasive denture cleanser.
Is Using Denture Adhesive Necessary or Important?
You probably won't actually need denture adhesive as long as the restoration was correctly fitted in the first place. That said, it can offer some additional piece of mind if you're worried about your dentures slipping.
When Shouldn't Denture Adhesives Be Considered?
If your dentures are suffering from a serious fitting problem, adhesive should not be considered a permanent solution. It's better to have the dentures adjusted as soon as possible so that they stay in place without causing soreness or oral injuries.
What Are the Types of Denture Adhesives?
Some adhesives come in the form of gel or paste that are applied directly to the dentures themselves. There is also a powder adhesive that needs to be mixed with water first as well as pads (or seals) that must be trimmed beforehand so that they fit on your unique restoration.
Are Denture Adhesives Safe?
As long as you follow the directions provided by the manufacturer, denture adhesive is safe to use. Remember not to use too much adhesive, as doing so could damage and inflame the underlying soft and hard tissues.
How Much Do Dentures Cost?
The answer to this question will be different depending on whether you're receiving full dentures and partial dentures. The placement of dental implants (as well as the specific procedure used, such as All-on-4) will also affect the price.
Does Dental Insurance Cover the Cost of Dentures?
Most insurance plans will help pay for your dentures. Since they're considered a restoration, you can usually expect coverage of up to 50%, though you can naturally expect different insurance carriers to have different rates.
Learn More About Dental Insurance
How Long Do Dentures Last?
The average lifespan of dentures is typically between 5 and 10 years. (Some have lasted for decades, but this is very rare.) You can extend this lifespan as much as possible by practicing good oral hygiene and performing proper maintenance every day.