December 11, 2018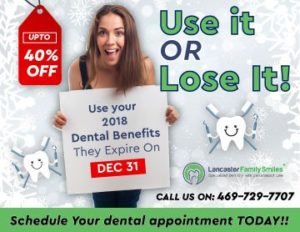 Today will allow you the opportunity to use any benefits you have left for this year. We want to remind you there are some services in particular that you may find beneficial to utilize before Dec 31, 2018.
Dental Routine Checkups: Most dental plans offer two dental checkups every six months within a calendar year including a prophy and xrays. So scheduling an appointments now for both you and your family would maximize the benefits you pay for all year long.
Comments Off

on Use your Dental Insurance before it expires, Don't let your Hard Earned money Go To Waste!!!
Older Posts »