February 8, 2023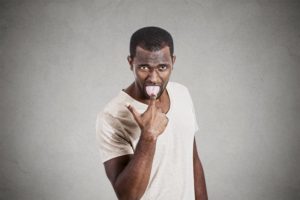 Your tongue allows you to experience the wonderful world of taste. While sweet and savory tastes are savored, bitter and sour ones are not as enjoyable. Although unpleasant tastes may linger a bit after eating certain foods, what if they don't go away, even after brushing or rinsing with mouthwash? Or what if a bad taste in your mouth appears suddenly? These could be signs of a serious issue. Read on to learn some possible causes of the bad taste in your mouth and what you can do to solve it.
What Are the Possible Causes?
A consistent unpleasant taste in your mouth could have many causes. Here are some of the most common reasons:
Oral Health Issues
Not only does neglecting your oral hygiene habits put you at risk for cavities, infections, and gum disease, but it can also lead to a persistent bad taste in your mouth. It is essential to brush twice a day for at least two minutes and floss daily to keep your mouth in optimal condition. If you notice some problems with your oral health, be sure to visit your dentist as soon as possible. Dental problems can only become worse and more expensive without treatment.
Dry Mouth
A dry mouth, medically known as xerostomia, happens when there is not enough saliva being produced to wash away bacteria. It is usually characterized by a sticky, dry feeling. This can lead to the oral bacteria growing out of control, resulting in a strong odor. If you think that you have chronic dry mouth, contact your dentist so it can be taken care of right away.
Pregnancy
For the first trimester of pregnancy, a bitter or metallic taste in the mouth is a common complaint. The hormones in the body fluctuate during pregnancy and can affect the senses and cause specific cravings. This also makes the thought or smell of certain items seem disgusting. Usually, the bad or metallic taste will go away later in the pregnancy or after birth.
What Are Your Next Steps?
Treating the underlying cause is the key to fixing the bad taste in your mouth. Once you visit your dentist and describe the symptoms you've been experiencing, they will likely run tests to see if there are any serious issues like oral cancer. They will also do a thorough exam and cleaning to get your oral health back to its best condition.
There are also at-home remedies that you can try before your dental visit. For dry mouth, be sure to stay hydrated by drinking plenty of water so you can stimulate saliva flow throughout the day. To prevent oral health issues that can lead to abnormal tastes, maintain a consistent dental hygiene routine by brushing twice a day, flossing once a day, and keep up with your biannual checkups and cleanings.
Ready for your mouth to return to its normal taste? With knowledge of some possible causes, you can explore some solutions and contact your dentist. Your smile will be back to being fresh and healthy before you know it!
About the Author
Dr. Mahima Gupta and her team at Lancaster Family Smiles are eager to keep your smile healthy and beautiful! She graduated from the New York University College of Dentistry and has completed over 700 hours of continuing education for the past 20 years to expand her clinical skills. With the use of advanced dental technology and customized care, her passion is to help you achieve optimal oral health and address any areas of concern. To schedule an appointment, contact her through her website or call (469) 729-7707.
Comments Off

on Do You Have a Constant Bad Taste in Your Mouth?
No Comments
No comments yet.
RSS feed for comments on this post.
Sorry, the comment form is closed at this time.