January 4, 2022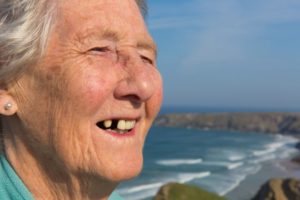 You know that chewing your foods would be difficult if you didn't have any teeth, but they are used for a lot more than just that. By maintaining excellent oral health in Lancaster, you will be able to enjoy your smile for the rest of your life. However, if your dental hygiene is lacking, you could end up with issues like tooth decay and periodontal disease, both of which can lead to missing teeth. Continue reading to learn about the functions of your teeth other than chewing.
Maintaining Bone Structure
When you chew your food, your teeth are stimulating the jawbone to keep it strong. However, when you're missing your teeth, the jawbone isn't getting the reinforcement it needs. Eventually, your body will begin to reabsorb this material, leaving you with bones that are smaller and less dense.
This will lead to a higher risk of fractures, and it can limit the number of dental procedures you could be a candidate for, like dental implants. This bone shrinkage can even change the appearance of your face. Often, it can lead to a longer upper lip, loss of muscle tone, and an increased depth of the vertical lines of your face. You may look much older than you actually are.
Producing and Holding in Saliva
Chewing stimulates the salivary glands and releases valuable enzymes that help you to predigest your food. This makes it easier for your gastrointestinal tract to do its job. Without your teeth, the saliva that you produce has an easier way to sneak out of your mouth. There are two barriers that normally hold the saliva in – your teeth and lips. Accidently drooling is more common because you will need to pay more conscious attention to keep it from coming out.
Pronouncing Words
Both your tongue and lips interact with your teeth to help you make certain sounds that are part of your language. If you didn't have teeth, making the t, f, and v sounds would be especially difficult. You might be more likely to slur your words and be more difficult for others to understand.
Preventing Problems with Oral Health in Lancaster
If you are missing teeth, there are certain health problems that you would be more likely to develop. If you're attempting to chew food with only your gums, you could develop gum diseases and temporomandibular joint dysfunction (TMJ). Lacking the ability to chew could also cause you to experience nutrient deficiencies.
Smiling
Even though you can still smile without having teeth, many people feel discouraged because they are self-conscious about their absence of teeth in the mouth. If you aren't smiling, you may feel less happy. Ultimately, your teeth can improve your disposition.
Missing teeth will lead to more hardships than just losing the ability to chew. By maintaining good oral health in Lancaster and seeing your dentist for regular cleanings and checkups, you will be able to reap the benefits of your smile for years to come.
About the Practice
At Lancaster Family Smiles, our experienced dentists offer superior dentistry in a comfortable setting where you feel at ease. We aim to provide your family with greater access to complete dental care at a more affordable cost, but you can still expect state-of-the-art equipment and personalized care. Our dentists would love to support the theme of this blog post and talk to you about how important your teeth are during a dental cleaning and exam. You can schedule an appointment on our website or by calling (469) 729-7707.
Comments Off

on What Are Reasons You Need Your Teeth Besides Chewing?
No Comments
No comments yet.
RSS feed for comments on this post.
Sorry, the comment form is closed at this time.