February 5, 2021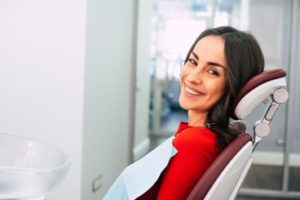 If it has been a few years since your last dental appointment, you're not alone. Sometimes work or life can take over and you end up forgetting to reschedule that visit to the dentist. Another reason for your hiatus may be due to dental anxiety, which is also very common. But no matter the reason for your time away, the most important thing is that you've decided to return! A lot of time away from the dental chair is enough to make anyone a little nervous, especially when you're not sure what to expect. Read on to find out what your first dental checkup might look like.
Spending a Bit More Time in the Office
Breaking the ice with a new dentist or getting reacquainted with an old one can both take a bit more time than you may think. They will take a look your oral tissues (gums, tongue, cheeks and lips), check to make sure that your bite is properly aligned and see if you have any cavities, infections or jaw issues. You will also need a new set of X-rays so your dentist can see if any cysts, tumors or decay are lurking beneath your gums. After your exam, your dentist or a hygienist will clean your teeth using special tools to remove any plaque and calculus (also known as tartar or hardened plaque) below your gum line.
New Technology and Treatments
Dentistry is constantly advancing, so if it has been a while since you've visited the dental office, you are almost guaranteed to experience fewer steps in a service or a new treatment. For example, if dental anxiety has prevented you from seeing your dentist as often as you should, your dentist in Lancaster offers dental sedation. This treatment can make your appointment much less stressful and allow you to receive the treatments you need in a much more relaxed state. Another example is BioClear, which allows your dentist to resolve specific dental imperfections that would normally be treated with crowns, veneers or dental bonding in a single visit.
The Next Steps for Your Dental Health
When your visit is nearing its end, your dentist will take time to discuss any concerns they may have found in your X-rays or during your exam and suggest the best ways to resolve them. They may also want to discuss your regular dental routine and suggest ways for you to prevent future issues. If you have questions, concerns or want to discuss any dental goals you may have, this is the perfect time to do it.
Skipping a few dental visits is not uncommon, but you definitely want to make sure that you make time to get in to see your dentist. Your dentist is not here to judge you. Their only goal is to help you achieve the healthy, beautiful smile you deserve.
About the Practice
At Lancaster Family Smiles, Drs. Mahima Gupta and Jubliee Goel are dedicated to offering patients of all ages personalized, comprehensive dental care. They are both dedicated to continuing their education in order to ensure that their patients have access to the latest techniques and treatments. Lancaster Family Smiles offers an array of services that include general and sedation dentistry, pediatric dentistry and more. If you're ready to take back control of your dental health, contact the office at (469) 729-7707 or visit the website to schedule an appointment today!
Comments Off

on What to Expect When Your Dental Checkup is Years Overdue
No Comments
No comments yet.
RSS feed for comments on this post.
Sorry, the comment form is closed at this time.