May 18, 2021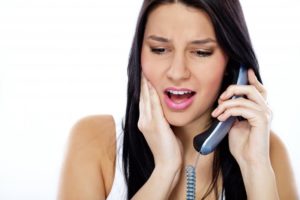 Toothaches are one of the most common oral health issues because there are so many different types of dental pain. While most toothaches need prompt, but not urgent, dental care, some can warrant a trip to your emergency dentist. So how can you tell which category yours falls into? The best way to tell is to call your dentist. They'll ask you more about your symptoms to determine if you need treatment right away. In general, if you experience any of the following seven types of tooth pain, you need to give your Lancaster emergency dentist a call right away!
1.) Sharp Pain When Biting Down
A stabbing pain that you feel when chewing, talking, or biting down can mean that the sensitive inner layers of your tooth are exposed. Oftentimes, this is due to a crack or cavity. However, this type of pain could also indicate an infection around the roots of the tooth as well. Either situation needs to be treated to keep it from getting worse.
2.) Constant, Throbbing Pain
A toothache that is severe, constant, and throbbing is a common warning sign of a serious dental infection. If left unchecked, it could potentially cause permanent damage to your tooth, spread to your other teeth, and even impact your overall health. You should seek immediate attention for this type of toothache!
3.) Lingering Tooth Sensitivity
Tooth sensitivity is often associated with cavities, which need to be treated soon, but are not considered an emergency. However, if your tooth sensitivity lingers for more than 30 seconds at a time, you may have a dental abscess or the early stages of gum disease! You'll need treatment right away to save the tooth.
4.) Tooth Pain with Discoloration
If your painful tooth appears to be darker than the rest, it's likely injured. Your enamel is slightly opaque, so if the pulp of your tooth is damaged or infected, the tissue will turn dark and show through your enamel. You'll need treatment for it right away to fix the problem before it gets worse.
5.) Tooth Pain with Small Bump on the Gums
If your toothache is accompanied by a small, pimple-like bump on your gums, you may have an infection building up around the roots of your teeth. This serious type of toothache needs immediate attention to fight the infection and keep the tooth from falling out!
6.) Dull, Constant Pressure
If you feel a dull, constant soreness in the back of your mouth, your wisdom teeth might be coming in. These vestigial teeth are too big to fit in the modern human's mouth, so they may push into your other teeth or become impacted in the jaw as they come in. You'll likely need to have your wisdom teeth removed to prevent worsening pain as well as damage to the rest of your teeth.
7.) Long-Lasting Toothache
Toothaches can be caused by a wide variety of issues, some of which are quite serious. If your toothache has you worried and has lasted for more than a day, it's time to call your emergency dentist. If it's severe enough to interrupt your daily life or wake you up at night, there's no need to wait! Whatever is causing your toothache needs to be delt with right away to protect your smile and restore your quality of life.
About the Practice
At Lancaster Family Smiles, we strive to help you keep a happy, healthy smile for life. However, we know that not all dental emergencies can be avoided. That's why we strive to get you the care you need ASAP with our evening and weekend hours. Additionally, we offer same-day appointments for emergency patients so you can get out of pain right away. To learn more about our emergency dental services, we can be reached online or at (469) 729-7707.
Comments Off

on 7 Types of Tooth Pain That You Should Call Your Emergency Dentist For
No Comments
No comments yet.
RSS feed for comments on this post.
Sorry, the comment form is closed at this time.