January 16, 2019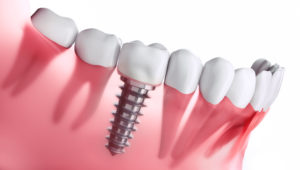 Do you avoid smiling or eating around others because you worry that they might notice your missing tooth? You are not alone. In fact, nearly 70% of adults aged 35 to 44 in the United States have one or more missing teeth, according to the American Association of Oral and Maxillofacial Surgeons. Fortunately, thanks to advancements in modern dental care there is now a range of options to restore your smile, including dentures and dental implants. Want to know which option is right for you? Find out below why dental implants in Lancaster are the best long-term solution to replace missing teeth.
Implants or Dentures: What's the Difference?
Dentures, or artificial teeth and gums, are a common solution to replace missing teeth. They are typically made from a hard resin and are custom-designed to fit your mouth. Although not as strong as natural teeth, dentures are a suitable solution for many men and women with missing teeth, especially those who do not have a healthy and strong jawbone.
A dental implant, on the other hand, relies on a titanium post surgically inserted into the jawbone to provide outstanding support for a replacement tooth. The titanium implant fuses with the natural bone through a process called osseointegration to mimic the natural tooth root structure. Dental implants provide maximum strength and support and can restore the ability to eat, speak and smile with confidence.
The Benefits of Dental Implants
Dental implants offer a range of benefits and advantages compared to traditional dentures, such as:
Long-Lasting – With proper care, dental implants can last 20 years or more! Compare that to dentures, which typically must be replaced every 5 to 10 years.
No Slippage – The sturdy base of a dental implant means that replacement teeth with never slip or shift in your mouth.
Natural Feel – Because dental implants mimic the natural tooth root structure and fit securely in the mouth, they feel more like natural teeth compared to other teeth replacement options.
Maximum Stability – You can keep eating all your favorite foods worry-free with dental implants, which offer nearly the same chewing power as natural teeth.
Visually Appealing – Dental implants are custom-designed in size and color to blend in seamlessly with your natural teeth.
Am I a Good Candidate?
With a success rate of approximately 98%, dental implants are a reliable long-term solution for replacing missing teeth. Most adult men and women make excellent candidates for dental implants, especially if the following is true:
The patient brushes and flosses every day
The patient has healthy gums
The patient has adequate jawbone depth
A full, beautiful smile can bring joy to you and those around you every day. If you are ready to restore your smile and restore your confidence, talk to an implant dentist in Lancaster today!
About the Author
Dr. Mahima Gupta has over ten years of experience helping patients achieve and maintain healthy and whole smiles. Her dedication to quality dental care and superior patient care led Dr. Gupta to be recognized as a 2017 Top Doctor in Lancaster. Patients with questions about the best options to replace missing teeth can visit the Lancaster Family Smiles website or call the office at 469-729-7707.
Comments Off

on A Dentist Compares Dentures vs Dental Implants in Lancaster
No Comments
No comments yet.
RSS feed for comments on this post.
Sorry, the comment form is closed at this time.