December 29, 2018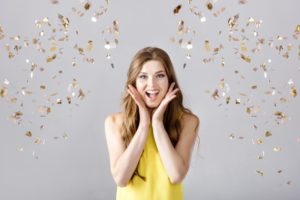 The new year is coming. Are you ready for it? Do you have any big plans and dreams that you want to pursue this year? Perhaps one of the things you want for 2019 is a new and improved smile. After all, it's one of the first things that people notice about you. Unlike with the typical resolutions that end up in failure in February, don't give up on your goal of a perfect smile. Start the new year off right by talking to a cosmetic dentist in Lancaster about how you can transform your teeth and boost your confidence in 2019.
Whiter Teeth
Through constant exposure to staining foods and drinks and over time, your teeth can look yellow or dull. No matter how hard you try or how faithfully you brush and floss, stains and wear on your tooth enamel will inevitably make your teeth color fade. But you don't have to hide them. Sure, you could try store-bought whitening products, but they don't deliver dramatic results. Instead, you can whiten your teeth using one of the effective methods offered by cosmetic dentists.
Both in-office and take-home whitening solutions use either carbamide or hydrogen peroxide to safely and effectively bleach stains out of your teeth. The in-office treatment uses a higher concentration and requires only one treatment while the take-home option delivers the same results at your convenience of your own home over the course of two weeks. Either whitening solution can brighten your smile by up to eight shades!
Straighter Teeth
Traditionally, straightening your teeth meant getting metal brackets and wire put in your mouth with lots of adjustment appointments and soreness. Well, not anymore! Cosmetic dentistry offers more options that are faster and more enjoyable than traditional braces.
Invisalign clear aligners gently guide teeth into position. After taking impressions of your teeth, your dentist makes custom-made clear aligners that are barely visible when worn. You have the freedom to continue eating the foods you love, and care for the aligners is easy. Your dentist will monitor your progress and make little adjustments as needed to make sure you get the best results. Ask your cosmetic dentist if they offer Invisalign in Lancaster.
Fastbraces is another unique straightening solution. Unlike traditional braces, it shifts the roots and crown of the teeth together from the beginning, speeding up the treatment timeline and minimizing the breakdown of tooth root density. The results that traditional braces can create in two years takes under six months with Fastbraces.
More Perfect Teeth
Looking to have a Hollywood smile? Porcelain veneers or Lumineers are the way to get it. Veneers offer the best treatment choice for people who are looking for a smile transformation and have the following:
Worn tooth enamel.
Uneven tooth alignment or spacing.
Stain/discoloration.
Chips or crack.
Veneers are ultra-thin sheets of ceramic material that is adhered to the front of your teeth to cover these imperfections. Amazingly natural looking, veneers are durable, when properly maintained, in terms of both their strength and their longevity. In just two visits to the dentist, you could have the perfect smile you've dreamed of with veneers.
These changes may seem small, but they make the world of difference in your self-esteem. If you have big dreams you want to accomplish in 2019, think about perfecting your smile to give you the confidence you need to achieve them. Talk to a cosmetic dentist in Lancaster today!
About the Author
Practicing dentistry for more than 10 years, Dr. Mahima Gupta was named as a Top Doctor in Lancaster, Texas, in 2017. In her practice, Lancaster Family Smiles, she provides cosmetic services in teeth whitening (both in-office and take-home), Invisalign, Fastbraces, porcelain veneers and Lumineers, and more. You may contact her by calling or clicking here.
Comments Off

on Ring in the New Year with a New Smile with a Cosmetic Dentist in Lancaster
No Comments
No comments yet.
RSS feed for comments on this post.
Sorry, the comment form is closed at this time.