October 19, 2018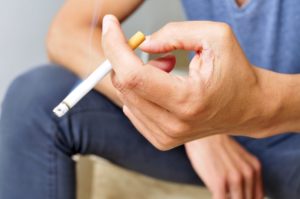 Over 500,000 people every year are turning to the most reliable solution to replace their missing teeth. Dental implants allow you to regain the next best thing to your own teeth with an option that offers over a 95% success rate. Your implant dentist in Lancaster can fill the spaces in your smile with a customized treatment plan. Although they are designed to last for a lifetime, there is one big factor that can increase your risk of implant failure – smoking.

What are Dental Implants?
Dental implants differ from conventional prosthetics because they replace both the root and the crown. A titanium implant post is surgically placed into your jawbone to act as a new root. This stimulates bone growth, allowing the two to fuse to one another. It also improves the density of your jawbone to protect any remaining natural teeth. After your jawbone has healed, a custom-made crown is attached to the post using an abutment to fill the space of the missing tooth.
This allows you to enjoy security and stability that are not possible with other tooth replacement options. You can eat your favorite foods, speak clearly, and smile with confidence. With the right aftercare, your implant post can improve your quality of life for several decades. Unfortunately, if you are a smoker or start the habit after your posts have been placed, you are putting your smile at risk of failure.
Smoking and Dental Implants
For the average person, the risk of implant failure is less than 5%. If you use tobacco, the potential for it occurring significantly increases. Recently, Spanish researchers conducted a study involving 66 patients who had received 165 implants. They monitored the patients for 5 years. The researchers found the failure rate of those who smoked to be nearly 16% compared to a little over 1% of those who did not use tobacco.
Smoking increases the risk of implant failure because it hinders the body's ability to heal. As a result, the jawbone may not properly fuse to the implant post. In addition, smoking also raises your risk of infection because it compromises the body's ability to fight it. This makes it more likely for an infection to develop known as peri-implantitis. If it occurs, it is more difficult to treat in smokers than nonsmokers.
Protect Your New Smile
If you are interested in dental implants to treat your tooth loss, it is best to stop using tobacco in any form as soon as possible. During the consultation process with your dentist in Lancaster, TX, it is important to discuss your history of smoking to ensure you are a good candidate for the procedure.
Don't let smoking stand in your way of a complete smile. Break the habit today!
About Dr. Mahima Gupta
Dr. Mahima Gupta is supported by a diverse background in dentistry, including advanced areas of specialty, like dental implants. She provides the solutions you need to maintain a healthy, functional smile. If you are ready to replace your missing teeth, she can help. Contact our office today to schedule your consultation.
Comments Off

on Implant Dentist in Lancaster Discusses the Risks of Smoking
No Comments
No comments yet.
RSS feed for comments on this post.
Sorry, the comment form is closed at this time.