August 10, 2018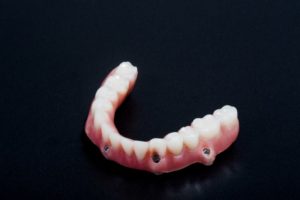 When you go out to eat with friends, family or coworkers, is your first thought to determine which item you can eat confidently? Do you worry about your denture slipping or shifting as you chew, possibly even falling out and drawing unwanted attention to yourself? Millions of people missing their teeth deal with the same issue every day, but there are solutions to make chewing, speaking and laughing easy again.
To learn how an implant dentist in Lancaster can improve your biting force, smile, and overall quality of life, keep reading!
What is an Implant-Retained Denture?
An implant-retained or implant-supported denture is a prosthetic dental device that is designed to work in tandem with dental implants. Unlike traditional dentures, which require fitting to the shape of the gum and typically denture adhesive to stay in place, implant-retained dentures are customized to attach to implants.
Dental implants are titanium posts that are placed inside the jaw so they can integrate with organic bone and gum tissue. Implants are often considered the gold standard for tooth replacement because of how well they mimic natural teeth. In many ways, dental implants are even stronger than natural teeth because they lack a periodontal ligament. They blend in perfectly with your smile, offer the strongest biting force possible, prevent premature signs of aging, and stop your jawbone from shrinking.
Compared to traditional dentures, implant-retained dentures are the best solution for those trying to replace an entire arch of teeth.
How Does It Work?
An implant-retained denture comes in two different forms. They include a bar-retained denture or a ball-retained denture.
The bar-retained denture uses a thin metal bar that follows the curve of your jaw and is attached to a series of implants. Then, clips or clasps are attached to the bar or the denture, allowing to be snapped into place. Ball-retained dentures use ball-shaped connectors that rest on top of the implants and stick out above the gum line. This allows the customized denture, fitted with sockets for the balls to snap into, to fit securely to the implants.
How Is It Maintained?
In both cases, implant-retained dentures are designed to be removable, allowing for cleaning and regular maintenance. This involves removing the denture before bed like you would normally, letting it soak, and brushing it after removal. You'll also need to visit the dentist every six months so they can confirm that it's fitting properly and that your bite is even.
While your implants can last as long as 30 years to a lifetime with regular care, the attachments holding your denture in place require replacement every six to twelve months.
Experience a better alternative to extensive tooth loss by scheduling a consultation with a Lancaster implant dentist today!
About the Author
Dr. Mahima Gupta earned her dental degree from New York University. She works hard to help patients achieve the best and healthiest smile possible, including through the use of dental implants. To learn how she can replace single, multiple or all your teeth with this incredible tooth loss solution, you can contact her through her website.
Comments Off

on How an Implant Dentist in Lancaster Can Make Your Denture Fit Better!
No Comments
No comments yet.
RSS feed for comments on this post.
Sorry, the comment form is closed at this time.