December 4, 2017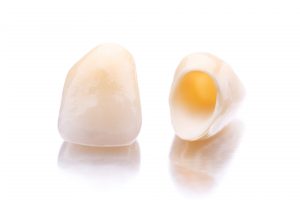 For some time, you were dealing with the nagging pain of a decayed tooth and finally decided to take action. You went in to be examined, and your dentist determined that the best route to take for restoration was to add a crown to your tooth. After the procedure, though, you noticed that something seemed a little off about your new application. So you've decided to consult with your new dentist about your dental crown in Lancaster. Learn some of the ways of determining whether your crown is good or bad.
What is a Dental Crown?
A dental crown is a tooth-shaped cap that fits over your existing teeth or dental implant. It is made of a durable, biocompatible dental-grade porcelain that blends in with your natural teeth.
Characteristics of a Good Crown
These are some of the characteristics of a good dental crown:
Fit – Your dental crown will fit correctly, which means that it will come down to the gum line like your natural crowns do.
Match – Another sign of a good crown is that it will match the surrounding teeth in contour and shape. This is important because all your teeth have a symbiotic relationship with each other, meaning their shape, contour, location and spacing are all relative to each one's contribution to the function of your entire jaw structure.
Proper Contact – This too, is very important for functionality. If the crown is placed properly, you will make the right contact with your food when you bite down and begin chewing. You should not be aware of the tooth, individually, when you are eating because perfectly functioning teeth just do their respective jobs. If you are aware of the tooth, though, it's a sign that something may be wrong with your crown.
Color – Although this deals more with aesthetics, it still is a measure of the quality of the dental work you've received. Your crown should blend in with the rest of your teeth.
What's a Bad Crown?
A bad crown is one that doesn't at least meet the criteria listed above. The litmus test for any dental work is, "Has it restored my function to the fullest measure that the procedure is capable of delivering?" If it has not met these objectives, it is a failed procedure.
It's difficult to determine which dentist is proficient enough to deliver the quality care that you need and deserve. That's why it's important to empower yourself by getting educated through channels such as this. Then, reach out to your dentist in Lancaster, TX to schedule an initial consultation to learn more about how she can ensure that your experience will be positive, and the care provided superb.
About the Author
Dr. Mahima Gupta completed her dental degree and one year of residency in India. After taking time to broaden her insight and gain experience, she went on to earn her Doctor of Dental Surgery degree from New York University. She practices at Lancaster Family Smiles and be reached for more information through her website.
Comments Off

on Is My Dental Crown in Lancaster Up to Par? Traits of a Good Crown
No Comments
No comments yet.
RSS feed for comments on this post.
Sorry, the comment form is closed at this time.