August 9, 2016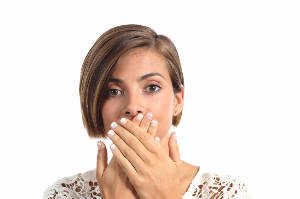 You bite down on a sandwich and experience a shooting pain in a front tooth. What is causing your dental pain? Dr. Mahima Gupta, Lancaster, TX emergency dentist, wishes to relieve your discomfort and restore you to best dental health. Here are some reasons behind tooth pain.
Tooth decay is the most frequent reason for tooth pain. Caused by the corrosive action of oral bacteria contained in plaque and tartar, cavities often go into the inner root chamber, irritating connective tissue, nerves and blood supply. Usually requiring a tooth-colored, ceramic filling, a decaying tooth may need Lancaster, TX root canal therapy to remove infection (abscess), a porcelain crown or in the worse case, Lancaster, TX extraction and replacement.
Thinned tooth enamel leads to dental pain. When stomach acid (related to gastrointestinal reflux or eating disorders) or acidic foods repeatedly contact teeth, enamel erodes. Simple aging, wear and tear and excessive teeth grinding damage enamel, too,  allowing temperature extremes and sugary foods to travel down tubules in enamel to sensitive dentin and inner pulp. Additionally, gum recession from periodontal disease, aggressive brushing or aging expose tooth roots, leading to pain.
Cosmetic resin bonding, crowns and porcelain veneers are restorative treatments Dr. Gupta uses when sensitivity is extreme. Simpler recommendations are in-office fluoride treatments, enamel building toothpastes and rinses which help control discomfort due to sensitivity.
Chips, cracks and fractures hurt to varying degrees. A completely avulsed, or knocked out, tooth causes pain to the jaw and surrounding soft tissue and warrants an immediate call to Lancaster Family Smiles. Always save fragments of a chipped or fractured tooth or restoration, such as a dental crown or bridge, and bring them to Dr. Gupta. With lost teeth, rinse with warm water, and replace in the empty tooth socket if possible. Transport to the dental office.
Brand new dental restorations often cause discomfort, too, as tooth pulp and gums heal. Jaws can hurt post-procedure because the patient has held his or her mouth open for an extended period of time.
A frequent bother to teens and young adults, wisdom teeth are painful when impacted in gums and bone or when they decay and infect because of their hard to clean position in the mouth. Dr. Gupta may extract third molars to provide relief from pain and infection.
Finally, what seems to be dental pain may have its source elsewhere. Sinusitis, or an infection in the sinus cavity, causes what dentists and doctors call "referred" pain. See Dr. Gupta immediately for an oral exam. She can eliminate dental problems as a cause of pain through oral examination and x-rays.
What to do about dental pain
Dr. Mahima Gupta and her dedicated team strive to provide compassionate and skilled dental care-whether routine or urgent. Don't hesitate to contact Lancaster Family Smiles any day of the week with a pressing dental concern. And, of course, call us to schedule your routine check-up and cleaning so your smile stays bright and healthy.
Comments Off

on Lancaster, TX emergency dentist talks about tooth pain
No Comments
No comments yet.
RSS feed for comments on this post.
Sorry, the comment form is closed at this time.