February 25, 2023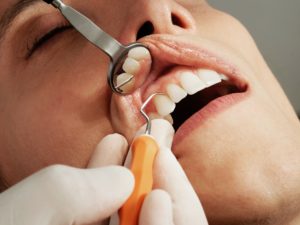 One of the most common dental procedures we perform in the clinic! If you've lost a tooth from decay, age, or even injury, dental implant reconstruction is where we use implants to restore the lost tooth. Not only will this resemble your teeth and restore your smile, but it will ensure you can chew properly again!
How does it work?
We create a new tooth to be anchored into the jaw bone, preventing the existing gap from widening (which in extreme cases can even lead to bone loss in the affected area). How we administer the new tooth, depends on which type of implant we recommend for you.
What are the types of implants?
1. Endosteal implant
These are the most common form of dental implant we administer. A plant screw is placed on the jawbone with an abutment to stabilize this. This forms the implant, and once your gum has healed, we place your new, custom-made crown on top of the implant.
2. Subperiosteal implant
In some cases the bones aren't healthy enough to support an endosteal implant. Here we are likely to recommend subperiosteal implants. The procedure is similar, apart from the new implant is built under the gum and on top of the jaw bone (rather than fusing it into the bone itself). This is also viable for those that aren't keen on the idea of a bone graft.
3. Immediate load
This can be administered in just one visit, reducing the overall treatment time. While it is the quickest procedure for if you have a healthy jaw, it is less stable as a long-term solution.
Are there alternatives?
There are a few shorter-term alternatives to implants.
Bridges
Similarly, these replace a single missing tooth and when looked after properly, they can last up to a decade! The procedure itself requires us to shave two healthy teeth in order for them to secure the new crown in place.
Dentures
These generally cost less than implants and come in two forms: partial dentures and complete dentures. With the former, we don't need to reshape your existing teeth, meaning they may not look quite as natural as other options. On the other hand, complete dentures replace all of your natural teeth and rest on the gum line where your natural set used to sit.
It's worth noting that both forms of dentures often only last for up to a decade, so consider the cost in needing these replaced after 10 years.
Emergency dentist
Unexpectedly lost a tooth? You're probably thinking "Where on earth can I find an emergency dentist near me?!". No stress, even if you're not an existing patient of ours we're here to help. If you're considering emergency treatment at our dental office in Lancaster, you can speak with us here!
Final thoughts
Ultimately, dental implant reconstruction is a proven long-term solution if you're missing any teeth. Not only will it enhance your smile, but it will also encourage your mouth to function as it should. Over several appointments, one of our dentists can customize a crown in line with the shape and color of the natural teeth that will be surrounding the implant.
Comments Off

on What is Implant Reconstruction?
No Comments
No comments yet.
RSS feed for comments on this post.
Sorry, the comment form is closed at this time.