October 29, 2021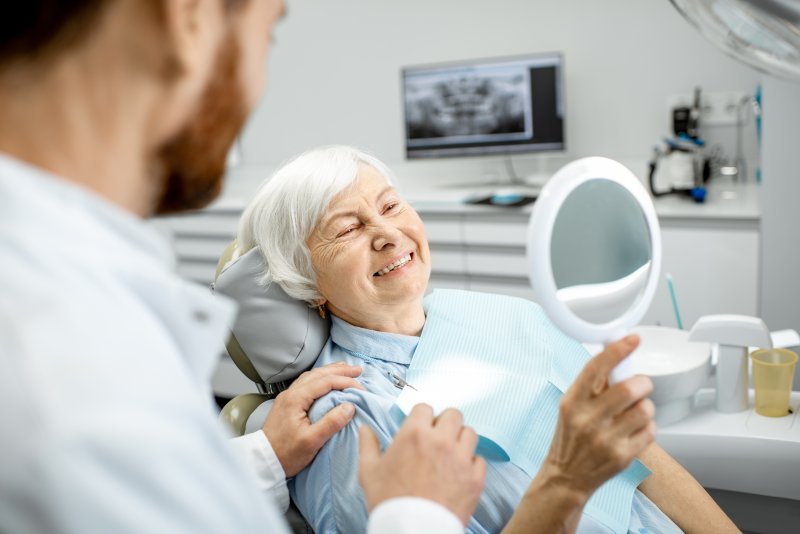 Are you tired of wearing your dentures? Maybe it's because they slip and slide around in your mouth, or you're simply looking for a more permanent solution. Whatever the case, you might be thinking about transitioning from dentures to dental implants. But before you make the switch, here are some things you should know.
Why Do People Switch from Dentures to Dental Implants?
Dentures are one of the most traditional solutions for missing teeth. Although they're not as permanent as dental implants, people still prefer dentures for several reasons. Not only are they affordable, but they're easier to use and require a lot less recovery time than a dental implant procedure. However, there are a few downsides that quickly annoy patients. They slip, require extra adhesive, taking them off can hurt, and cleaning them may be a hassle. As a result, some patients eventually consider transitioning to dental implants.
Benefits of Dental Implants
You can reap several benefits when switching from dentures to dental implants, such as:
Preserved bone mass. Implants preserve bone mass, maintain the natural shape of the jaw, and do not require replacement.
Increased stability and durability. Since implants are inserted into the jawbone, they provide unmatched stability and durability.You don't have to worry about them moving around in your mouth.
Natural appearance. Dental implants are designed to look, act, and function just like natural teeth. That means you can also enjoy a more natural-looking appearance!
Fewer costs in the long run. Even though dental implants have a higher upfront cost, they'll save you money in the long run because they do not need to be replaced.
What Is the Transition Like?
Right off the bat, it's crucial to know that when transitioning from dentures to dental implants, a bone graft may be needed beforehand. When your teeth are removed and not replaced with anything, your jawbone begins to shrink in size. Not only does that cause the shape of your face to change, but it also makes getting implants a longer process. With that said, if you don't have sufficient bone for a positive implant procedure, your dentist will likely recommend bone grafting. Some patients ask if their old dentures can be used with implants. Although it may be possible in some cases, it usually does not work. However, implant-supported dentures are certainly an option you can consider.
Are you thinking about upgrading from dentures to dental implants? Contact your dentist and ask how you can get started. You'll be amazed at the significant improvement your quality of life will have!
About the Practice
At Lancaster Family Smiles, we provide exceptional, state-of-the-art, compassionate dental care that's guaranteed to exceed even your highest expectations. Our team will go above and beyond to give you and your family a pleasant dental experience like never before. If you're thinking about switching from dentures to dental implants, don't hesitate to contact us. We'll make sure your transition is as seamless as possible. To learn more, visit our website or call (469) 729-7707.
Comments Off

on What to Know About Switching from Dentures to Dental Implants
No Comments
No comments yet.
RSS feed for comments on this post.
Sorry, the comment form is closed at this time.