November 1, 2021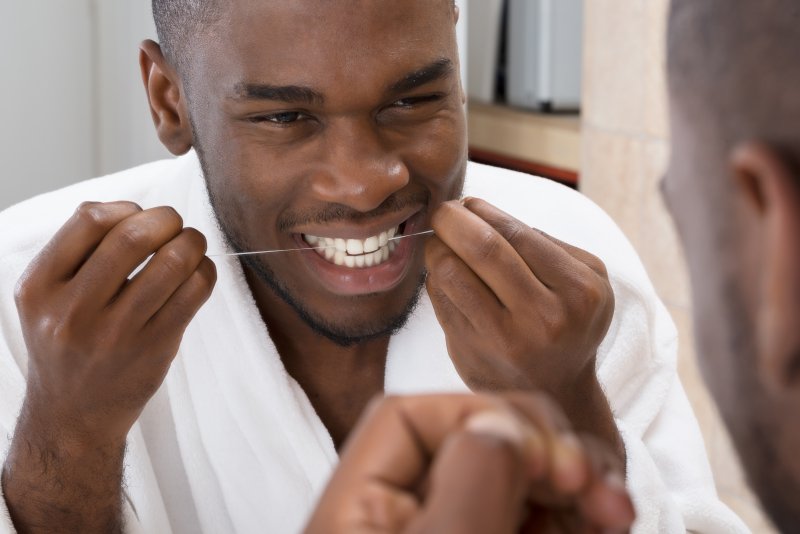 An estimated 31.6% of American adults floss every day, and 31.9% don't floss regularly at all. While many patients neglect to floss their teeth at least once per day, it's an important part of maintaining optimal oral health. Continue reading to learn why flossing in Lancaster is important and how it may actually end up saving your life.
Why Flossing Is Important
Plaque is a sticky film made of bacteria that forms on the teeth. Not removing plaque allows it to attack your tooth enamel, which makes you more susceptible to cavities. No matter how often you brush, there are still areas of your mouth that can't be reached without using dental floss. By flossing at least once per day, you can remove about 40% of the plaque that's on your teeth and drastically lower your chances of tooth decay. If you don't remove plaque from your teeth by flossing between them, this can lead to bad breath, decay, and even gum disease.
How Gum Disease Can Affect the Body
If you don't floss your teeth regularly and gum disease develops, this can be bad news for your overall health. Untreated gum disease can exacerbate existing health conditions, some of which can be life-threatening. A few common diseases that are connected to gum disease include:
Respiratory disease – Bacteria in the mouth can travel to other parts of the body, including your lungs. This can lead to infections like pneumonia, which can make it difficult to breathe and may also allow bacteria to enter the bloodstream.
Cancer – Studies show that people with a history of gum disease are 52% more likely to develop gastric (stomach) cancer and 43% more likely to develop esophageal cancer than people with healthy gums. Gum disease has also been linked to kidney, blood, and pancreas cancer.
Diabetes – Gum disease and diabetes each make each other worse. Severe gum disease can raise a patient's blood sugar, which makes diabetes difficult to manage. High blood sugar weakens the immune system, and this makes it more difficult for your body to fight off infections like gum disease.
Heart disease – Since gum disease leads to inflammation, this causes an outpouring of immune cells. Though this encourages healing short term, chronic inflammation is a key contributor to health problems like heart disease.
Pregnancy complications – An infection of the gums can be risky for both the mother and the baby. If bacteria reach the bloodstream, this can cause low birth weight and preterm labor.
When you perform your nightly oral health routine, don't skip the floss. Your gums, teeth, and the rest of your body will thank you for it!
About the Author
Lancaster Family Smiles understands the importance of receiving the care you need in a safe, comfortable environment. That's why they have gone out of their way to make their office an inviting place for patients of all ages. They strive to teach patients how to better care for their teeth and the ice of flossing in Lancaster so they can keep cavities, gum disease, and other oral health issues at bay. To learn more about the importance of flossing or to schedule an appointment, visit their website or call their office at (469) 729-7707.
No Comments
No comments yet.
RSS feed for comments on this post.
Sorry, the comment form is closed at this time.