August 11, 2023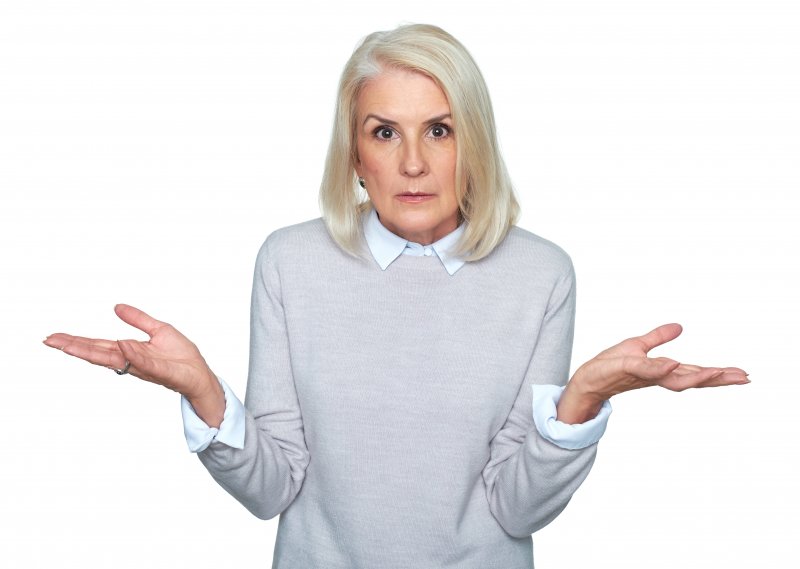 A full set of dentures can completely transform your smile and restore your confidence. With dentures, you'll be able to talk and eat the way you did before. However, there can be some vexing quirks to work out when you begin to use your dentures.
One of the most common frustrations is an unsecured lower denture that doesn't seem to fit as well as the upper portion. Continue reading to learn more about why this happens and what you can do to mitigate it.
Why is My Lower Denture Loose?
There are many reasons why a lower denture could feel unsteady or seem to not fit properly:
Low Bone Density
The bone height and width of your lower jaw is one of the best determining factors of the fit of your prosthetic. If you have a fairly robust and well-shaped jaw, your denture will fit better.
However, if you've been without teeth for a while, your jawbone will have deteriorated. In this case, it may be difficult to keep your denture stable.
Improper Boarder Dimensions
The sides of a denture are known as borders. Borders must be just the right length to hold onto the jaw properly and have a proper width to create the suction required to keep the prosthetic steady.
Lack of Control
When you start using dentures, you quickly realize that they don't function like your normal teeth. Because they aren't affixed to a solid structure, they require you to use muscles you may not be used to using to function correctly.
What can I do to Make Them Stay Put?
While some of the causes of loose denture are out of your control, there are actions you can take to reduce the mobility of your prosthetic:
Ask Your Dentist for a Hard Reline or Remake
Your prosthetic can wear down over time and lose some of its stability. A hard reline is a process that allows your dentist to retool the underlying structure of your prosthetic.
After your dentist takes an impression of your gumline, they send it and your denture to a lab where technicians reshape and restore the boarders for a more customized fit.
If this process doesn't restore functionality, your dentist can have your entire denture remade. The average lifespan of a denture is around seven years, so if you've had yours for that long, it could be time to have this done.

Get Your Dentures Implanted
The most effective solution for solving loose dentures is to have them attached to implants. These are titanium posts that are attached to your jawbone. Once the implants have been installed, your denture can be affixed to the posts, keeping it secure.
With dental implants, your dentures function more like natural teeth. This can help you adjust to them more quickly and relieve the muscles in your face that you needed to use the loose prosthetic.
Understanding the reasons behind your loose lower is the first step to finding a solution. Your dentist is your best partner in addressing this issue, so don't hesitate to reach out to them. They are happy to help you regain the confidence and comfort you deserve with your dentures.
About the Author
Dr. Mahima Gupta is a passionate and skilled dentist who enjoys the smiles on her patients' faces more than anything. Dr. Gupta graduated from the New York University College of Dentistry and has since logged over 700 hours of continuing education in a wide array of dental techniques. To schedule an appointment at Lancaster Family Smiles, call (469) 729-7707 or visit the website to learn more.
Comments Off

on Why Does My Lower Denture Keep Coming Loose?
No Comments
No comments yet.
RSS feed for comments on this post.
Sorry, the comment form is closed at this time.