December 21, 2022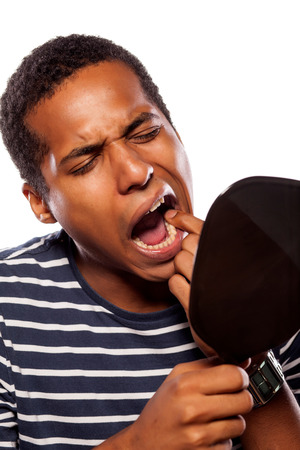 It's normal to have a loose tooth every so often when you're a child, but when you're an adult, it's always a serious emergency. Permanent teeth are not supposed to come loose; if they do, it's usually due to an injury or gum disease. If you don't want to lose the tooth altogether, you need to act quickly. Here are 5 steps you should follow if you ever have a loose tooth.
Step 1: Call Your Dentist
Before anything else, you should get in touch with your emergency dentist to schedule an appointment. A loose permanent tooth needs to be treated as soon as possible, ideally within 12 to 24 hours. The sooner your dentist can see you, the more likely it is that you'll be able to save the tooth in question.
Step 2: While Waiting, Avoid Touching the Tooth
When a tooth is already loose, moving it will likely make the problem worse. As such, you need to make a conscious effort to avoid touching the tooth with your fingers or tongue. While it can be tempting to try to pull a loose tooth out by yourself, doing so is a bad idea; an improperly performed extraction can put you at risk for infection. In short, you need to be careful about making sure your tooth stays in place until you can see your dentist.
Step 3: Stay Away from Certain Foods
If you need to eat before your dental appointment, you'll want to avoid foods that could further damage your tooth. In general, you shouldn't eat anything sticky, chewy, or hard. Furthermore, when you chew, you should use the side of your mouth where the affected tooth isn't located.
Step 4: Keep the Area Around the Tooth Clean Without Brushing or Flossing
It's important to keep the area around the loose tooth free of harmful bacteria. However, you should avoid brushing and flossing at this time, as doing so could loosen the tooth further. Instead, take some warm water and swish it around in your mouth. This will help rinse away harmful organisms and food particles.
Step 5: Get the Treatment You Need as Quickly as Possible
Once your dentist has a chance to examine your tooth, they can help you figure out the best way to treat it. In many cases, this may involve wearing a dental splint to hold the tooth in place until it can reattach to the socket. That said, sometimes the tooth might need to be removed if it has been too badly damaged. Of course, extraction is always a last resort; when possible, your dentist will always choose to save your tooth.
It can be all too easy to panic when a tooth comes loose, but by remaining calm and following the steps outlined above, you can give yourself the best chance of keeping your smile whole.
About the Author
Dr. Mahima Gupta graduated from the New York University College of Dentistry, and over the past two decades, she has completed over 700 hours of continuing education. At Lancaster Family Smiles, she offers same-day emergency appointments for patients suffering from loose teeth and other urgent dental problems. To schedule a consultation with Dr. Gupta, visit her website or call (469) 729-7707.
Comments Off

on What to Do If You Have a Loose Tooth as an Adult
No Comments
No comments yet.
RSS feed for comments on this post.
Sorry, the comment form is closed at this time.