August 15, 2022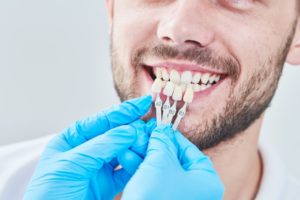 Have you noticed that most celebrities seem to have perfect teeth? Some may have been born that way, but many famous actors and musicians have fixed their dental flaws with a cosmetic dental treatment called veneers. In fact, veneers have their roots in 1920s Hollywood! Nowadays, it's possible for anyone – not just the rich and famous – to enjoy a flawless smile thanks to veneers. Read on to learn the fascinating history of veneers and how they can give you a set of pearly whites fit for the silver screen!
How Veneers Began
In 1928, the first veneers were created by a California dentist, Dr. Charles Pincus, to temporarily enhance actors' smiles during film shoots by covering imperfections. These thin porcelain shells were placed over the actors' teeth using a removable adhesive. Over the years, veneers became increasingly common among movie stars even when they weren't on set, as they started getting veneers bonded to their teeth for years at a time. Many celebrities switched to acrylic veneers rather than porcelain ones, but they could become more easily damaged.
Improvements Over the Years
The veneers process was revolutionized in 1959 when Dr. Michael Buonocore invented a practice called "etching," which is still used today for all sorts of dental restorations. Etching involves applying a very weak acid to a tooth's surface, making it more porous, so that the restoration can more easily adhere to it.
Etching was first used for veneers specifically in 1982 by two researchers named Simonsen and Calamia. They also found a way to increase the strength of the bond between the tooth and the veneer. After applying the acid to the enamel, they placed a putty-like resin onto it as well. When the resin seeped into the newly formed pits in the tooth, it created a foundation for veneers to stay in place for years or even decades before needing replacement.
At this point, veneers became more accessible and less expensive to make. This meant that more and more non-celebrities started getting veneers as a way to enhance their smiles.
Modern Veneers
These same etching and bonding methods are still used for veneers today. Dentists use them to place high-quality porcelain veneers, which closely resemble natural teeth, are resistant to discoloration, and can potentially last for 10 – 15 years or longer. Getting veneers today is a simple process that only takes two appointments: one for your dentist to prepare your teeth and take impressions, and another after your veneers have arrived from a dental lab.
Dental technology has made incredible strides in the last century, especially when it comes to veneers. Today, veneers are much more lifelike and accessible than ever. Ask your cosmetic dentist in Lancaster whether veneers are right for you!
About the Author
Dr. Mahima Gupta studied dentistry in her native India before moving to the United States and earning her Doctor of Dental Surgery degree from the New York University College of Dentistry. She has more than 20 years of experience helping patients achieve happier smiles. At Lancaster Family Smiles, she offers veneers to correct all of the flaws in your teeth simultaneously. She can even provide minimal-prep veneers for a more conservative solution. To learn more about veneers and how they can improve your smile, you can contact Dr. Gupta by calling 469-729-7707.
Comments Off

on How Veneers Have Evolved to Create Flawless Smiles
No Comments
No comments yet.
RSS feed for comments on this post.
Sorry, the comment form is closed at this time.