July 17, 2022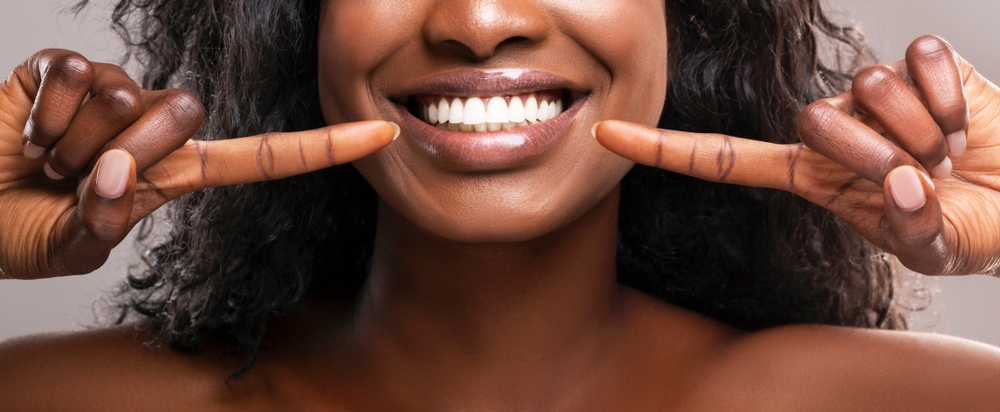 Store bought whitening pastes, rinses, strips and gels promise you dramatic results, but often fail to deliver on any form of result. People come to us when they've exhausted all over the counter options, having wasted unnecessary money and time when there was a solution out there in the first place: in-office teeth whitening. So why aren't people trying it sooner?
The thing that tends to put people off in-office whitening, boils down to cost and misinformation around the risks. We're here to debunk those myths!
What is it?
"In-office" teeth whitening (meaning the procedure is done in our clinic) is where an exfoliating agent is applied to your teeth and activated with a special light to remove any discoloration or stains built up from dark drinks, colorful foods, or simply a poor dental health routine to name a few. All you need to do is sit there comfortably while your eyes, gums and lips are fully protected!
The treatment is available to patients with strong teeth and who simply want to improve the appearance of their smile, while patients with cavities or weakened enamel may need a separate oral health treatment before the in-office whitening. Most patients see exceptional results in just one visit!
Who's it for?
Patients that want to brighten their smile, quickly. If you'd prefer more gradual results or if you have more sensitive teeth, we recommend trying our professional-grade at-home kit (further information here).
The Pros?
Fast results:
Gleaming results are delivered in just one hour!
Sustainable results:
Results can be seen beyond a year if you stick to a disciplined oral health routine. We recommend eating calcium rich foods to protect the enamel, limit sugary foods and drinks which erode the teeth, and equally limit hard or chewy foods which get stuck in your teeth for the rest of the day. Remember to drink plenty of water too, since this can help flush out food remains or built up bacteria.
The Cons?
Sensitivity:
We will always do a thorough examination before going ahead with the procedure, but occasionally some patients experience brief sensitivity following treatment. Few people also experience some short-term discomfort in their gums if they are exposed to the bleaching treatment.
Costs:
If you have cavities or weakened enamel, we will always recommend treating these before looking into teeth whitening. Of course this can prove more costly.
Crowns and veneers:
While teeth whitening delivers exceptional results on your natural smile, any crowns or other restorations will not whiten in the same way.
Final thoughts
Ready to learn more on teeth whitening?
In just one visit with us, we can blast away those stubborn stains stopping you from giving that big grin!
Contact our DeSoto dentistry service if you'd like to schedule a consultation or you have any further questions about your options for teeth whitening.
Comments Off

on The Pros and Cons of Professional Teeth Whitening
No Comments
No comments yet.
RSS feed for comments on this post.
Sorry, the comment form is closed at this time.