September 28, 2022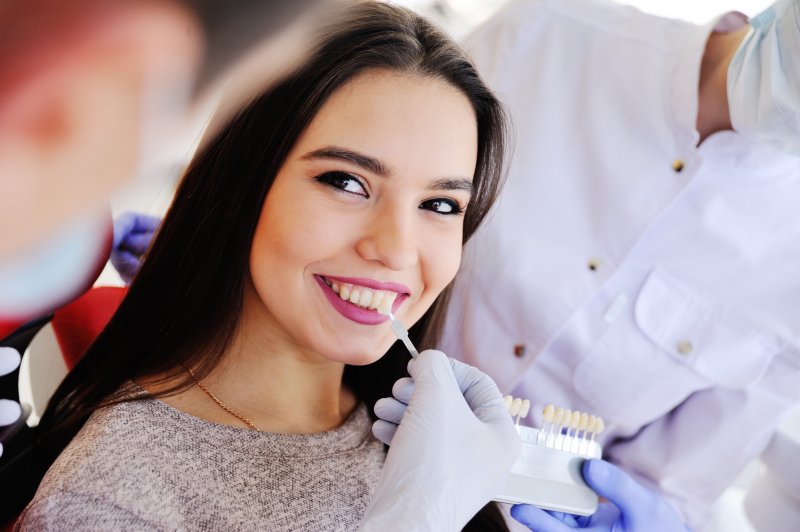 Are you interested in enhancing your teeth with veneers? You aren't the only one. This is one of the most popular treatments even among movie stars and social media influencers! Not only can they conceal dental flaws and provide a virtually permanent whitening solution, but the results can also last you 15 years or more with proper care. But how exactly does the veneer procedure go? Read on to learn what you can expect during the treatment process.
Step #1: The Initial Consultation
The very first step towards getting veneers is to have a consultation with your cosmetic dentist. During your visit, they'll assess your situation, discuss your smile goals, and determine the best approach for enhancing your pearly whites. This is the perfect opportunity to ask questions and inform them of your desired results, such as the color and shape of your new teeth. Once you're both on the same page, they'll develop a detailed treatment plan and provide cost estimates before moving on to the next steps.
Step #2: Preparing Your Teeth
Before you can get your veneers, your teeth will need to be prepared to make room for them. This will involve shaving off a small portion of your enamel, which will not grow back over time. Once the preparations are finished, your dentist will take impressions of your smile and send them to a dental lab to fabricate your permanent veneers.
Step #3: Wearing Temporary Veneers
The construction of your final porcelain shells will typically take several weeks to complete. In the meantime, your dentist will provide you with temporary veneers to cover and protect your exposed teeth. Not only will this allow you to enjoy a uniform smile for eating and smiling, but they'll also serve as a "test run" for how your permanent veneers will work after they're placed. Your dentist will be able to make any adjustments to their size, shape, or color so that they can make the same changes to your final set.
Step #4: Placing Your Final Veneers
After a couple of weeks, your permanent veneers should be ready, and you'll be called back into the dental office to have them placed. Your dentist will remove your temporary ones and use a special cement to bond your final layers to your teeth. They'll make any additional adjustments and ensure you're satisfied with your results before sending you on your way.
If you're interested in improving your pearly whites, feel free to consult your dentist about veneers. With these porcelain shells, you can be sure to enjoy showing off a beautiful smile for many years to come!
About the Author
Dr. Mahima Gupta earned her dental doctorate from the New York University College of Dentistry. She's also completed countless hours of continuing education to refine her skills and is a member of several organizations such as the Academy of General Dentistry and the American Dental Association. She offers a wide variety of high-quality and comprehensive treatments, including veneers. If you'd like to schedule a consultation, visit her website or call her at 469-729-7707.
Comments Off

on What to Expect From the Entire 4-Step Veneer Process
No Comments
No comments yet.
RSS feed for comments on this post.
Sorry, the comment form is closed at this time.