October 5, 2022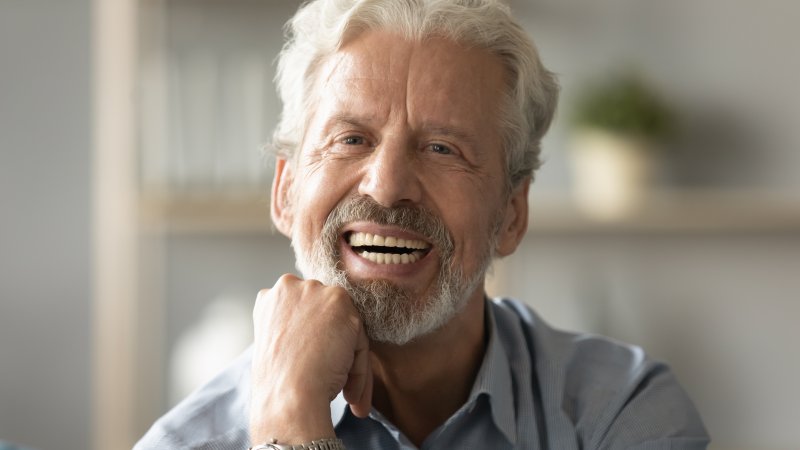 Dentures are one of the most popular and cost-effective methods to restore missing pearly whites. Not only will they help rebuild your teeth so that you can eat and speak comfortably again, but they'll also allow you to show off a confident smile for many years! However, many patients wonder if their restorations will provide a natural look in the long run. Read on to learn what you can expect from your treatment and how your dentist will create lifelike dentures.
Will My Dentures Appear Natural-Looking?
Some patients wonder if dentures will appear thick or awkward when wearing them. Thanks to modern dentistry and advanced technology, this isn't something you'd expect with your restorations. Your dental team will utilize professional-grade materials like porcelain and acrylic to construct your new pearly whites. These materials will not only be durable enough to withstand excessive pressure from chewing, but they'll also reflect light similar to your enamel. On top of that, your restorations will be made based on impressions taken of your smile, providing you with a lifelike and accurate rendition of your previous teeth to fully enjoy!
What Can I Expect From the Denture Process?
Firstly, you'll undergo an initial consultation with your dentist. During this appointment, they'll assess your oral health, discuss your smile goals, and determine if dentures are the ideal solution to rebuild your missing teeth. Your dental team will also be sure to address any developing issues, such as cavities, gum disease, or infection before going forward with your process. Once you're both on the same page about this restoration treatment, they'll move on to taking impressions of your smile. This may involve both digital and physical impression-taking techniques, which can provide a more exact fitting of your dentures.
Once your restorations have finished being made, you'll be called back to your dentist's office to have them placed in your mouth. They will ensure your dentures fit perfectly, match seamlessly with the rest of your smile, and that you're satisfied with your natural-looking results before leaving your appointment. You'll also be provided with specific instructions on best practices for preserving your dentures so that you can make the most of your new teeth.
If you're interested in rebuilding your missing teeth, you can be sure that dentures will provide the lifelike solution you deserve. Speak with your dentist if you want to renew your smile, and they'll be more than happy to help determine if these restorations are best for you!
About the Author
Dr. Mahima Gupta studied in India and at the New York University College of Dentistry. She's also a proud member of several prestigious organizations like the Academy of General Dentistry and the American Dental Association. She offers a wide range of high-quality and comprehensive services, including dentures. If you'd like to schedule a consultation, visit her website or call her at 469-729-7707.
Comments Off

on Will I Restore My Smile with Natural-Looking Dentures?
No Comments
No comments yet.
RSS feed for comments on this post.
Sorry, the comment form is closed at this time.