April 18, 2023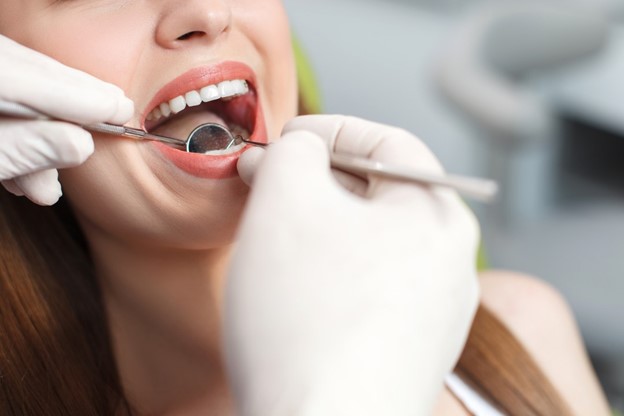 Oral cancer can spread rapidly, and with thousands of cases remaining undetected, it is a significant concern. However, it is also one of the most preventable cancers, and your dentist can play a crucial role in its prevention. During routine checkups and cleanings, your dentist performs oral cancer screenings to ensure your smile stays safe. But, if you already have oral cancer, how quickly can you expect it to spread? Continue reading to learn the answer as well as more about this condition.
What Is Oral Cancer?
Oral cancer is a type of cancer that develops in the tissues of the mouth or throat. It can occur in various areas, such as the tongue, gums, lips, tonsils, or roof of the mouth. Oral cancer typically starts as a small, unnoticed growth or sore. Left untreated, it can quickly spread to other areas of the mouth or throat. The condition is more prevalent in people who smoke or use tobacco products, consume excessive amounts of alcohol, or have a family history of cancer.
How Fast Can Oral Cancer Spread?
Oral cancer is a complex condition. Its spread can vary depending on several factors, which makes predicting it and determining the progression challenging. As with other malignancies, it is unpredictable.
While there is no specific rate for oral cancer spread, it is generally considered a moderately spreading cancer, falling between the slowest and fastest-spreading types. However, it is crucial to detect and treat oral cancer as early as possible to improve the chances of successful treatment outcomes.
Ways to Prevent Oral Cancer
Fortunately, there are several ways that you lower your risk of developing oral cancer, such as:
Avoid tobacco products: Tobacco use is a significant risk factor for oral cancer, so it should be avoided.
Limit alcohol consumption: Excessive alcohol consumption is another significant risk factor for oral cancer. It's recommended to limit alcohol intake to one drink per day for women and two for men.
Eat a healthy diet: A balanced diet should include plenty of fruits and vegetables, fish, dairy, lean meats, nuts, and leafy greens, all of which are good for your smile.
Practice good oral hygiene: Regular brushing, flossing, and dental checkups can help prevent oral cancer by keeping the mouth and gums healthy.
Protect yourself from the sun: Prolonged sun exposure can increase the risk of developing lip cancer, so use lip balm with SPF and wear a hat to protect yourself.
Get vaccinated for HPV: Human papillomavirus (HPV) is a sexually transmitted virus that can increase the risk of developing oral cancer, so it's important to get vaccinated.
Be aware of the symptoms: This includes persistent mouth sores, lumps, or white or red patches on the tongue, gums, or lining of the mouth. Let your dentist know if any of these symptoms occur.
Additionally, be sure to visit your dentist every six months. They'll perform an oral cancer screening during these visits to help you keep your beam healthy!
About the Practice
At Lancaster Family Smiles, patient comfort and safety are the top priorities. Their inviting office environment caters to patients of all ages, ensuring a comfortable experience. The dental team educates patients on proper oral hygiene to prevent oral cancer and other oral health issues. They can also give you tips on better protecting your smile outside of the office. To schedule an appointment with Lancaster Family Smiles or to learn more, visit their website or call their office at (469) 729-7707.
Comments Off

on How Fast Can Oral Cancer Spread?
No Comments
No comments yet.
RSS feed for comments on this post.
Sorry, the comment form is closed at this time.